Experience a wide range of brand and get customize your Home Theater Package.
Schedule A Showroom Visit Call : 9607929868/64 Or email: [email protected]
Looking for Home Theatre Customization?
5.1 Polk TL 1600 – Home Theater System
Polk Audio Blackstone TL1600 5.1 Channel Home Theatre is something every household needs. Polk TL1600 5.1 home theater system comes with a unique Time Lens Technology. The acoustic lens incorporated in the grille of the system smoothens the frequency response of the tweeter. Silk dome tweeter offers a classic, precise, and clear Polk performance with pinpoint imaging. The tuned rear port enables the system for better blending with a subwoofer. The aperiodic tuned rear-firing bass port controls the port airflow for a big-bass response. Each system is equipped with a 65mm woofer and one 13 mm silk dome. The center speaker is similar but comes with two midrange drivers. The 100-W Active amplifier behind the subwoofer, in combination with a 200 mm bass driver, generates momentum from about 45 Hertz
Price – ₹40,000.00
---
Mission M-CUBE+SE – 5.1 Home Theater
With the massive success of the M-Cube series in Mission, the all-new Mission M-Cube+SE- best 5.1 surround sound system is designed to meet the requirements of every household. The system has an elegant appearance, satellite speakers, and multiple mounting arrangements. The full-range driver in each speaker covers a frequency range 120Hz to 20kHz. The subwoofer is a powerhouse with an LFE output from the AV processor. It has a power spectrum of 35-150Hz. The dynamic 150-Watt Class D amplifier is equipped with precisely aligned equalization. So, the best home theater system offers a clear and powerful bass rendition. The home theater system in India is easy to install on-wall or shelves. Mission M-Cube+SE- 5.1 discrete loudspeaker system is your one-stop for high-quality and versatile sound.
Price – ₹37,900.00
---
Monitor Audio MASS 5.1- Home Theater System
The Monitor Audio Mass 5.1 Home Theater System is the surround sound speaker you need for your home. It is easy and seamless to set up. The subtle elegance of this best home theater system matches the interior of your home. The system produces authentic and captivating surround sound. Its two-way sealed cabinet is tuned for wide dispersion and optimal integration. The MASS subwoofer turns any space into a state-of-art cinema experience. The compact and sealed enclosure comes braced with a 15 mm MDF construction and a sturdy 18 mm MDF baffle. The 8-inch long-throw driver with an MMP II cone and 120 W Class-D amplification offers a powerful performance to movie fans and music lovers. The custom-weave cloth finish looks stunning in any room.
Price – ₹69,999.00
---
5.1.2 Focal Aria 926 Speaker Package
The customized 5.1.2 Focal Aria 926 Speaker Packages the best sound system for home theater for any household. It embodies a 3-way floor-standing loudspeaker and is easy to install. The speaker package is designed to offer a rich and detailed sound. You get advanced technologies and audiophile sound at home at affordable prices. The driver materials are lightweight, rigid, and well-damped to remove unwanted vibrations. The tweeters frequency response varies by only +/-0.5 dB. So, you get an amazingly stable soundstage. A lightweight Poron 'memory foam' suspension improves damping to reduce distortion. The vibration-free cabinet has internal bracing and non-parallel sides to eliminate unwanted noises. A leatherette finish on the front gives the home theater system a traditional look.
Price – ₹776,000.00
---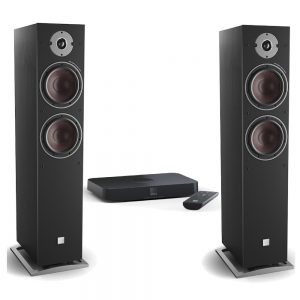 Dali Oberon 7C Active Speaker (Pair) With Sound Hub Compact
One of the best home theater systems in India, the Dali Oberon 7C Active Speaker (Pair) With Sound Hub Compact is equipped with a 2 X50 Watt Class D amplifier. Two 178 mm bass-midrange drivers finished with cellulose pulp along with wood fiber cones offer the highest-quality sound. An SMC motor is integrated into the high-quality MDF cabinet for unrestricted sound. The lightweight 29mm ultra-flexible dome tweeter can produce detailed highs and precise lows. With an extensive frequency range of 31 to 26,000 Hz, it is one of the best home theater systems. It also features a unique Bass Reflex load. The superior wireless connectivity of the Sound Hub Compact provides 24-bit/96kHz sound quality. The system features a Bluetooth aptX HD wireless capability for comprehensive connectivity.
Read more
---
Dali Sound Hub Compact
The DALI Sound Hub Compact is a sleek and stylish centerpiece for your Dali wireless speaker system. It sends high-resolution wireless signals from sources connected to your Dali speakers. You can control the volume and place it anywhere from table to wall-mounting. It comes with a dual-band wireless technology that delivers crisp and clear audio without speaker wires. The compact system has wired connectivity options for digital and analog sources. You can enjoy high-quality AAC and aptX streaming. The proprietary 30-bit protocol transfers uncompressed audio signal up to 24-bit/96 kHz resolution to speakers. The DALI sound hub is the best surround sound system for tv and that too it is compact is compatible and accepts audio signals via HDMI ARC. You can wall mount speakers via the keyhole slots on the bottom.
---
Dali Sound Hub
The Dali Sound Hub offers seamless wireless connectivity to bring Hi-Fi and convenience together. The Sound Hub is designed to connect Callisto speakers. You get up to 24bit/96 Hz wireless connection with Callisto speakers and are compatible with HiRes music. You can pair Callisto speakers with the sound hub and enjoy streaming music from your smartphone, laptop, or tablet. You can connect via Bluetooth aptX for wireless connectivity. The elegant sound hub also connects via the two optical and coaxial digital inputs. The Dali Sound Hub features a glass top plate and a single control knob to adjust the volume. A sleek remote control lets you control the system without moving a leg.
---
Dali Rubicon 2C Active Speaker (Pair) With Sound Hub
The high-demand RUBICON series by Dali creates a beautiful harmony with its high-quality audio. The wireless speaker system along with the sound hub becomes the best wireless home theater system setup for your home. The exemplary combination of drivers and amplifier technology delivers modern hi-fi quality. Its Low Loss Technology with cones draw old Epicon technologies that remove distortions. The Dali SMC (Soft Magnetic Compound) magnet motor system of the speaker ensures sound precision. Two tweeters render high frequencies and achieve a broader bandwidth. The DALI Sound Hub adds to the extended range of digital and analog inputs with an auto source. The Dali Rubicon 2C Active Speaker with Sound Hub integrates BluOS hi-res multi-room platform to deliver high-quality sound everywhere in the house.
---
Dali Rubicon 6C Active Speaker (Pair) With Sound Hub
The amazing Dali Rubicon 6C Active Speaker (Pair) With Sound Hub is an extremely powerful wireless speaker system. It offers audio in the best possible quality. The RUBICON audio system delivers Hi-Fi on the highest quality level than the original series. The lightweight cones are rigid yet complex. It ensures the reduction of surface resonance and lowers the distortions. All variants come with a 6.5-inch woofer made of wood-fiber cones and DALI SMC. The magnet motor system removes distortion to ensure a clear sound. The soft dome speaker and the hybrid tweeter combine to achieve a broader frequency bandwidth. The Dali Sound Hub combines Hi-Fi with convenience. The wireless connection between the Sound Hub and speakers is highly stable, made on 2.4 GHz up to 5.8 GHz.