Description
Focal Aria 926 Floorstanding Loudspeaker
Focal's Aria 926 3-Way Floorstanding Loudspeaker is a loudspeaker that doesn't compromise when it comes to power, precision, and musicality. It has been designed for those who want the best of everything, the best sound, and the best performance. The Aria 926 provides stunning clarity in midrange and treble frequencies due to its Polyglass cone. The focal aria speaker's bass response is punchy, ensuring powerful bass even at low volumes.
The 5.1 Focal Aria 926 is a 3-way floorstanding loudspeaker that features a 6.5-inch woofer, a 1-inch fabric dome tweeter, and a 5.5-inch midrange driver. All of these drivers are responsible for creating the rich and full sound that is often missing from other loudspeakers in this price range, especially when it comes to bass response. It can be painted or covered with high gloss lacquered finishes so you can customize its appearance to suit your taste.
Features of Focal Aria 926 Loudspeaker
Bass-reflex design with multiple ports for deeper bass response with less distortion and more impact.
An aluminum alloy base with embedded spikes for carpet and rubber or plastic feet for hard floors.
Fabric grille that can be removed magnetically.
Built and designed in France.
Focal floor standing speakers have powerful performance with three-way dynamics.
Focal Aria CC 900 2-Way Center Speaker
The Focal Aria CC 900 is a 2-way center speaker that produces great sound. It comes in various colors and sizes for your preference. The Focal center channel speaker's pretty flexible, so you should be able to fit it into just about any space you've got. The Focal Aria CC 900 has a 6.3″ midbass driver and a 1″ tweeter with the dome made out of soft silk. The speaker also uses some fancy crossover technology that seems to do a great job at distributing the sound throughout the room while still keeping it precise and clear. The silk dome tweeters are said to be one of the best on the market, so you're guaranteed high quality all around if you choose to drop some dollars on this speaker.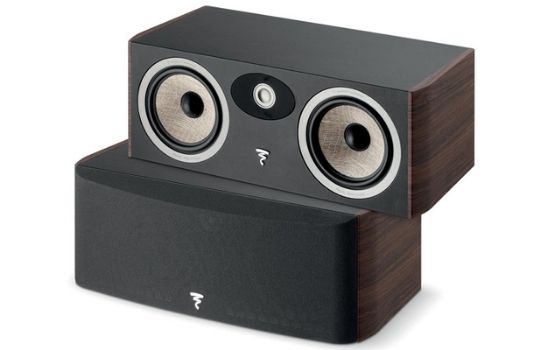 The Focal Aria CC900 has a pretty impressive frequency response range, going from 70Hz to 21kHz. It's a full frequency response too, so you won't have to worry about the bass being muddy or the treble sounding flat and lifeless. One of the best things about the Focal Aria CC 900 is its sensitivity. This speaker can scream when hooked up to a strong amp, which is great because this means you'll get awesome sound without having to go out of your way to find something powerful enough.
Features of Focal Aria CC 900 Center Speaker
Unique Flax cone.
Featuring TNF exclusive tweeter.
Developed and manufactured by Focal in France.
Offers a Black high gloss finish, a Noyer finish, and a Prime walnut finish.
The front panel is covered in a leather-effect coating.
Focal Aria SR 900 2-Way Bipolar Surround Loudspeaker
If you're serious about sound, then these sound systems should be a solid consideration for your next purchase. These speakers will bring the theater to your house and make you feel like you are in the front row. And they will fit seamlessly into any budget and create an atmosphere of style and sophistication that is unparalleled by any other speaker system on the market.
The Aria SR 900 2-Way Bipolar Surround Loudspeaker from Home Theater Direct features two 5″ drivers and dual 3″ full-range coaxial drivers with a frequency range of 45 Hz – 20 kHz, power handling of 150 watts RMS continuous power with peak power handling at 360 watts, and low impedance is 4 ohms.
The frequency response makes it a great choice for both movie theater and music listening. It is optimized for use with Dolby Pro Logic, Dolby Digital and DTS surround sound. It also works well with all forms of stereo sound. It has a two-way baffle that provides an even sound dispersion pattern to the listener regardless of where they sit in the room.
The Aria Jr 900 speaker has a great sound to it. The bass is full and smooth, even when you crank it up to the highest volume setting. The sound quality is top-notch and has great clarity. These speakers don't deteriorate at higher volumes either. You will no longer have complaints of how tinny the movie sounds or how much static there is on your favorite CD tracks. With these speakers, every single note will be listened to in beautiful clarity without being overshadowed by too much bass volume or distortion at high levels of sound output.
Features of Focal Aria SR 900 Loudspeaker
Unique Flax cone.
Featuring TNF exclusive tweeter.
Developed and manufactured by Focal in France.
Simple to install with Polyfix mounting system.
Focal SUB-1000 F Subwoofer
The Focal 1000 F subwoofer delivers an active frequency response of 40 Hz to 160 Hz, with exceptional accuracy and very low distortion levels even at very high volume levels. The Focal 1000 subwoofer uses a single voice coil and 1″ soft dome tweeter to give you a big sound from a small package. This subwoofer also features a cast frame and built-in circuitry for bass management, to ensure accurate bass output even at high levels. The 1000 watt RMS amplifier powering this beast produces forceful, heavy bass, making it the perfect addition to any system.
The Focal sub 1000F is an acoustic suspension speaker system with a bass-reflex design housed in a sealed box. This means that the enclosure of the speaker is not pressurized but acoustically suspended to provide better sound quality. The bass-reflex design helps boost low frequencies and make them louder, though this also means that there is more distortion involved in the process. The bass reflex system is more efficient at lower frequencies, but with much more output and distortion. For the sound quality that the subwoofer provides, it's a great deal considering its price tag.
Features of Focal 1000 F Subwoofer
Subwoofers with closed enclosures- Produce quality sound.
An extremely powerful 1000W BASH amplifier.
Focal's speaker driver is developed and manufactured in France.
Benefits of 5.1 Focal Aria 926 & On Wall Home Theater Package
If you're interested in a great home theater package, 5.1 Focal Aria 926 speakers and an On Wall Home Theater Package from Focal may be the perfect fit for your budget. This system delivers incredible sound quality at an affordable price point, with features that make it easy to use and install. 
1) High-Quality Sound for Your Home: The Focal 5.1 speaker package is an ideal choice for home entertainment systems as they come with a built-in amplifier and Bluetooth connectivity option.
2) They offer deep and accurate bass, with smooth, detailed highs. These speakers are perfect for music listening and movies & also come in handy for gaming.
3) Easy Installation: The Aria 926 surround speakers are easy to install, whether you mount them on a wall or fit them on your bookshelves. Integrating them into an existing setup is easy, as they easily connect to existing speakers. The entire package allows for a 5.1 surround sound system that delivers incredible audio quality for movies and games with a neat design.
4) High-End Components: This home theater package includes high-end components, such as aluminum dome tweeters with a waveguide design, which improves sound dispersion at higher frequencies. This makes dialogue more audible in challenging environments (like large rooms).
Where to buy this product?
To help you in making smarter choices and buying decisions in India, the allhomeliving.com expert team will provide you with stellar customer service and expert guidance. Now you can buy the 5.1 Focal Aria 926 & On Wall Home Theater Package online at the best price in Pune, Bangalore, Mumbai, and all over India.