Description
DEVIALET PHANTOM I 108 DB
Absolute fidelity, gold and titanium and dark chrome, quintessential.
108 dB SPL. 14Hz – 27kHz. 1100 Watts RMS.
Phantom I 108 dB, the ultimately connected speaker with its Remote. Hear every detail brought to life with unthinkable clarity and precision by a Grade I Titanium tweeter. Surrender to indecent power and ultra-deep bass. Sound in its purest and most essential form. No apologies.
EXPAND YOUR HORIZONS
The only thing better than one Phantom? Two. In stereo, Phantom's soundstage expands even further and listening takes on a new dimension as the speakers dance in absolute synchronicity. More extreme, more powerful, more exhilarating. It is an unthinkably immersive experience.
WE ARE ROON READY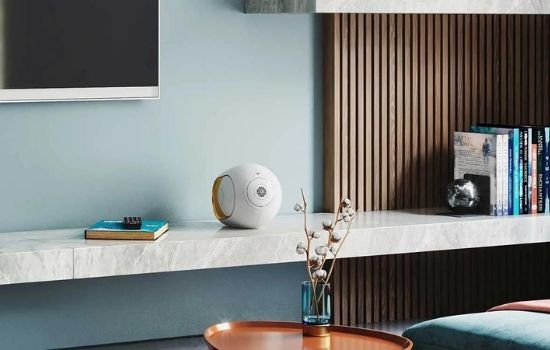 Roon and Devialet are thrilled to announce that every Phantom and Expert Pro have been awarded Roon Ready certification, bringing the best of Roon's capabilities and features to our product range.
Enjoy music with up to 24 bits, with your Phantom and Expert Pro. Both products reunited to even make high-res multi-room possible.
Devialet Phantom I 108 DB: An Extreme Speaker
Phantom has always carried the vision of building better and advanced audio components. With a vision to elevate sound to its rightful places, Devialet provides the audience with a uniquely stunning and intricate listening experience. Devialet Phantom has been a step ahead in revolutionizing its speaker game from its very release. The brand has achieved acoustic excellence in all these years and still brings the latest innovations for the customers.
Devialet Phantom I 108 dB has combined a series of radical patented technologies to reproduce the highest quality sound. With zero distortion, nil saturation, and no background noise, Devialet has shattered all technological dreams.
Unique & Revolutionary Features of Devialet Phantom I 108 dB
Devialet Phantom I 108 dB comes with a remote so you can relax and access the speaker. The details and precision of the speaker are ultimate. You will hear complete clarity and noiseless sound. The speakers have a Grade I Titanium tweeter. You can lose yourself to the powerful and ultra-deep bass.
With Devialet Phantom I 108 dB, Phantom's soundstage has expanded even further to enhance the listening experience and offer a new dimension to the speakers. An extreme, powerful, and exhilarating sound awaits you with Devialet Phantom I 108 dB.
Devialet Phantom I 108 dB works on a reliant network with the support of AirPlay 2, Spotify Connect, UPnP, and Roon. You can connect the speakers via Bluetooth, Ethernet, or Wi-Fi. The speaker also comes with an optical input at the rear end. The output power of these speakers is up to 1100W.
Innovative Technologies to Transform Audio
You can place these speakers anywhere due to their compact size and dimensions of 25.5cm x 25.2cm x 34.2cm. The compact speaker weighs 11.4kg and has stunning looks. The frequency range of these speakers is between 14Hz up to 27Hz. One of the best-patented technologies of Devialet, ADH- Analog Digital Hybrid amplification is designed to combine the benefits of an analog high performance and high-efficiency power.
Other technologies like HBI- Heart Bass Implosion put in the effort to produce deep and impactful bass. The compact closure speaker also comes with an ACE- Active Cospherical Engine. It is designed to make sure that the output sound evenly spreads to all the corners of the room. The spherical chassis spreads sound to various directions and offers complete soundstage performance. Another technology used by Devialet Phantom I 108 dB is its Speaker Active Matching (SAM) technology. It works to optimize the signal and real-time performance of the speaker.
Stunning Built Catches Attention
Devialet ensures to offer some of the best visually striking spherical designs when it comes to speakers. The compact speaker looks like a stunning jet engine with a matte finish. The new signature side panels come with LED status lights at the back. These speakers will catch anyone's attention.
Devialet Phantom I 108 dB comes with a new puck-like remote to control everything from the comfort of your couch. You can play, pause, change volume, and skip boring tracks with the centra touchpad of the remote.
Another easy way to control your Devialet speakers is by using its Spark app. The app provides playback features and AV sync settings. You can also connect Devialet Phantom I 108 dB with your TV via its optical input. Devialet Phantom I 108 dB brings the best of Roon's capabilities and features.