Description
The JBL Synthesis® Surround Processor Pre-Amplifiers – SDP-75
Powered by unrivaled processing capabilities and exclusive technologies, the SDP-75 opens the way to a whole new generation of luxury home cinema, achieving ultimate performance and sustainability within the fast-moving home theater entertainment industry, now driven by 3D Audio and 4K Ultra High Definition video with High Dynamic Range (HDR) compatibility.
The SDP-75 is available in 16, 24, and 32 channel versions. It also supports the latest HD Audio and Video formats including D-Cinema while offering 3D audio decoding options and delivering up to 32 discrete, uniquely-rendered channels of immersive audio content at an unprecedented level of quality, for a whole new listening experience, leaving the competition far behind. Our exclusive Anechoic EQ improves loudspeakers at higher frequencies than can be equalized with high-resolution based only on in-room measurements. The SDP-75 is Roon Ready, capable of up-mixing two-channel or multi-channel music from Roon via the built-in Auro Auro-Matic, Dolby Atmos, or DTS:X algorithms. From the revolutionary hardware platform to the software environment, everything has been specified with no
compromise to provide a unique user experience unmatched by any other product available.
At the heart of this new generation of processors is a new approach to processing digital signals, based on a revolutionary hardware architecture that is highly scalable and easy to upgrade. Instead of traditionally using multiple DSP chips implemented in a complex and rigid architecture, a partnership between JBL Synthesis and Trinnov allowed us to develop a multi-purpose processing platform, based on a multi-core Intel computer processor to provide unrivaled processing capabilities. Used every day in demanding professional environments, this architecture meets the highest requirements in terms of reliability. Despite its extreme sophistication, the SDP-75 is easy to operate thanks to a unique user-friendly, and self-explanatory web-based user interface.
Main Features
16, 24, or 32 Channel Digital Audio Processor

Universal Spatial-Accurate 3D Audio playback

Roon Ready

118 Digital and Analog Inputs and 80 audio Outputs

7x HDMI 2.0a/HDCP 2.2 compliant inputs, individually configurable as

HDMI 1.4b as desired for legacy sources

Full Matrix Input/Output

Setup Wizard

User-friendly, self-explanatory user interface

Built-in WiFi & UPnP/DLNA Compliant Digital Media Renderer

Wide choice of Remote Options
Audio Formats
HDMI 2.0 compliant digital audio with 3D video pass-through
HD Audio Codecs: Dolby TrueHD, DTS-HD Master Audio
3D Audio Codecs: Dolby Atmos, Auro3D, DTS:X
LPCM Audio: 16-channels AES input compatible with Digital Cinema Servers
Dolby Atmos extraction of Dolby Atmos/7.1 AES/DCI
Audio from Digital Cinema Servers
UPnP/DLNA renderer: WAV, AIFF, OGG, FLAC up to 24 bits/192 kHz
Exclusive Technologies
Anechoic EQ for popular Revel and JBL Synthesis Loudspeakers
Provides high-resolution EQ that can only be achieved using anechoic measurements
Next Generation Hardware Platform
Revolutionary architecture, scalable processing platform;
64-bit floating point & 24-bit/192 kHz native processing;
Software-oriented upgrades provided over the Internet, no need for DSP upgrade
Robust design, inspired by Professional Audio product lines
Equalizers
Automated Multi-point Room EQ utilizing the Trinnov Optimizer with custom HARMAN operating
parameters
Simple drop-down loudspeaker selection
Exclusive HARMAN EQ Targets based upon industry-leading HARMAN X research
Audio Processing
Several layers of 31 bands Graphic EQ, gain, polarity, and delay available for every channel
Comprehensive Processing latency control
Total delay given in meters/milliseconds/frames for the listening point;
Adjustable global delay for accurate Lip Sync
Remote Management
VNC Remote Control through the network from any smartphone, tablet or laptop
Web-based responsive interface
Automation via Telnet and RS232 protocols
Crestron, Savant, Control4, AMX, RTI, and URC modules are available
Built-in Gigabit Ethernet and WiFi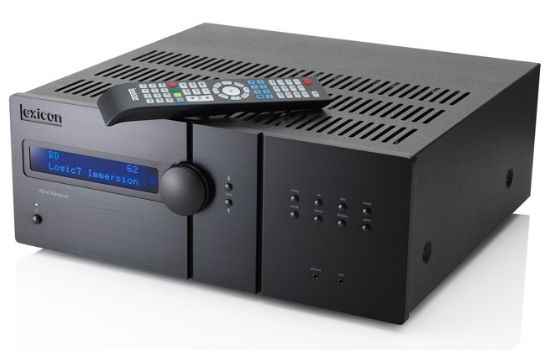 Power
Dedicated linear power supply with the toroidal transformer on the Analog audio circuit
Dedicated PSU/switch-mode power supply on the digital audio circuit
State-Of-The-Art Bass Management
Easily set different high-pass and low-pass frequencies and slopes for each pair of speakers
Optionally bass manage very small surround speakers to the nearest speaker capable of lower frequency extension, which can then itself be crossed over to the subwoofers