Description
DALI IO-4
AUTHENTIC DALI SOUNDDALI IO is designed and developed in Denmark – build on custom solutions by DALI. The IO's class-leading custom 50 mm paper fibre cone creates the most natural, transparent, and authentic DALI sound. With low distortion and colouration. Reproducing music exactly as the artist intended.
BATTERY LIFE (60 hrs)The IO-4 provides an incredible class-leading 60-hour battery life, which lets you go for weeks without charging. And should you run out of power, the IO-4 just keeps on going in the passive "Off" mode, when using the supplied Mini Jack cable. Or recharge to 100% in 2.5 hours via a standard USB-C connector.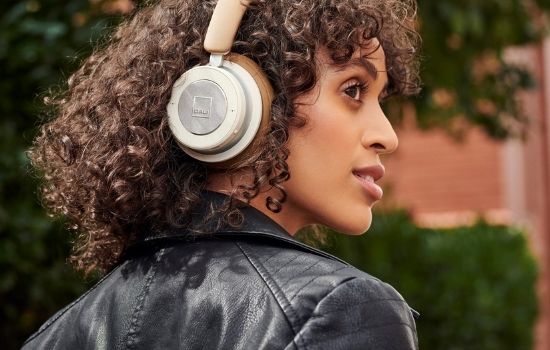 COMFORT & DURABILITYThe DALI IO ear pads are made from memory foam that shapes to the head for maximum comfort and fit – creating the best possible seal. The pads are covered in soft synthetic leather, chosen for both comfort and durability, and tested to meet real life challenges.
CONNECTIVITYFor high wireless audio performance, the DALI IO supports Bluetooth AptX, AptX HD and Apple AAC. But for the highest possible quality, DALI IO includes a USB-C connector, which supports digital audio streaming from Windows or Mac. The IO also incorporates a traditional wired analogue Mini Jack.
DALI IOWith DALI's 35+ years of experience in creating high quality loudspeakers, we decided to use our passion and expertise to create the wireless DALI IO-4 – dedicated to today's music lovers.With our passion for music reproduction, we were convinced that we could do with headphones what we have done with speakers; provide a better sounding product that delivers music experiences superior to the established competition.Headphones are essentially a pair of small loudspeakers mounted on your head. They are your personal set of portable hi-fi speakers that enable you to take that authentic DALI sound with you wherever you go.The DALI IO-4's are intended to be the perfect travel companion for those 'on the go' situations.AUTHENTIC SOUND
With DALI IO headphones, users benefit from more than 35 years of experience designing some of the finest hi-fi loudspeakers in the world. The DALI IO-4's are designed and engineered by the same team and to the same basic principles as any other DALI loudspeaker. The aim is to create the most natural and authentic sound possible – and to reproduce music exactly as intended by the artist. All done, "In admiration of music".
Being a loudspeaker company, we fully understand the importance of a high-performance driver. It was a big surprise for us to discover that within the headphone industry, drivers are often considered as cheap commodity components, with no real engineering attention paid to them.
The DALI IO-4 headphones utilise a high-quality custom-designed driver with a large 50 mm diaphragm and an optimised neodymium magnet system to achieve low distortion, minimal colouration and accurate dynamics throughout the entire frequency range.
The large-diameter driver ensures linear operation with minimum compression. This, together with the well-controlled breakups of the paper fibre cone diaphragm means that even the most minute music details stand out crystal clear. It also means that the sound never gets tiring, even after hours of listening.
COMFORT & DESIGN
The stylish DALI IO-4 headphones have been ergonomically optimised and designed with the right amount of adjustability to ensure a comfortable fit to any user.
A headphone's ear pad is the primary contact point between head and headphones. For maximum comfort, it must be soft and compliant to distribute the headband pressure evenly.
The ear pads of the DALI IO are made from memory foam that naturally shapes to the head, therefore creating the best possible seal, which is important for a consistent acoustic performance. The pads are covered in soft synthetic leather, chosen for maximum comfort and durability.
The DALI IO-4 have been designed with the lowest possible weight in mind. The weight of the headphones was an extremely important factor for long term comfort over long periods of use. The material choice of every individual component has been carefully selected in order to achieve minimum weight without compromising quality or durability.
The headphones are designed with real use in mind and have been tested to meet all real life challenges. So we made sure they are IP53 certified and that the ear cups are able to rotate 90 degrees both ways in order to fold flat for compact storage or to hang comfortably around the neck.
BATTERY LIFE
Go for weeks without recharging. Our advanced lithium-ion battery delivers peerless playback on a single charge. Go for non-stop up to incredible 60 hours with the IO-4.
To ensure that you are always aware of the current battery status, a voice prompt report the state of the battery level every time you turn on your DALI IO-4. The battery level is also indicated visually by two multi-colour LED indicators on the right ear cup.
Even if you should run out of power, the IO's passive mode keeps the music alive. Just plug in the included Mini Jack cable, and let your audio device run the DALI IO-4 in "Off" mode.
When in need of a recharge, the USB-C charging cable gets you fully charged in merely 2.5 hours