Description
FOR YOUR HOME CINEMA
Dôme is a high-end system, made in France, focusing on miniaturization as much as on high-tech. Dôme's sleek and timeless design makes this 2-way loudspeaker suitable for all living spaces whether on a table, mounted to a wall or an optional stand. The lacquered finish gives Dôme a trendy look which blends in perfectly with a flat-panel display. Thanks to its near-unlimited power handling, Dôme produces a rich and detailed sound.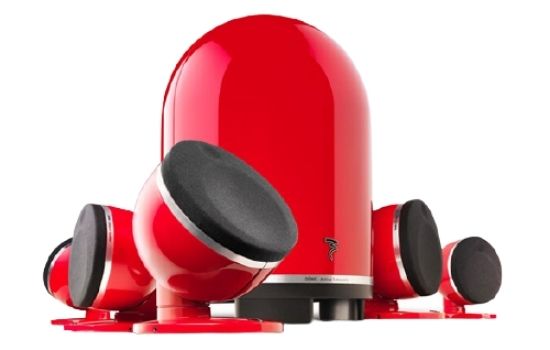 This subwoofer is the logical follow-up to the Dôme concept. When used with Dôme satellite speakers, it offers a sound comparable to that of much larger and bulkier speakers! To achieve this level of sound, the Dôme Subwoofer uses the very best in loudspeaker technology and a hybrid digital/analogue BASH® amplifier.
This pack is composed with 5 Dôme polyglass loudspeakers and Dôme subwoofer.
SLEEK AND INNOVATIVE DESIGN AND SOPHISTICATED MATERIALS
As for the style, Dôme has a refined design, perfectly in line with current trends.
No visible screws, noble materials combined with a luxury finish providing high perceived value, it can be rotated and it is easy to integrate by mounting to a wall, the ceiling or a stand.
POLYGLASS® SPEAKERS
Focal invents Dôme, miniature speakers with exceptional performance, dedicated to all Home Cinema installations. Dôme has been designed with specific technologies to make rediscover true sound, without encroaching upon your living space. This high-end mini speaker succeeds in everything: refined design, sophisticated materials, "Made in France" high-quality design and 100 % Focal technologies from prestigious and renowned loudspeakers.
Dôme speaker is available in two models with different Focal cone technologies. Dôme Polyglass, the original satellite loudspeaker of the range, is made of a Polyglass® cone Medium woofer which ensures neutrality, very good dynamics and a precise sound image.
In wall, in ceiling, on furniture or standing, Dôme comes to your place naturally and embodies brilliantly and eloquently the true Focal sound. It will be the music source for every room from 320ft2 to 430ft2.
CLEVER MIX BETWEEN DESIGN AND TECHNLOGY
Dôme design is functional, sophisticated but refined. Dôme is the balance between aesthetic and technology. Its round shape is ideal to avoid internal resonances that distort the purity of timbers. Observe it well, everything is smooth, no visible screw, even the complicated system of joints on pivot is perfectly integrated and beyond suspicion. Imagined as a swivelling « sound spot », Dôme becomes an ideal music source for each and every room from 320ft2 to 430ft2.
EXCLUSIVE FOCAL TECHNOLOGIES
Dôme Polyglass, the original satellite loudspeaker of the range, is made of a Polyglass® cone Medium woofer. It ensures neutrality, excellent dynamics and a precise sound image. This version is made of an aluminium/magnesium inverted dome tweeter, other technology developed by Focal.