Swati Goorha acquired the love for designing by dint of her travel diaries from an early age. Her creative work of aesthetically designed residences and commercial spaces are concentrated all over the US. A member of the prestigious American Society of Interior Designers (ASID), she actualized her goal by concluding her studies with an MS in Interior Architecture and Design at Drexel University in Philadelphia.
Swati strongly believes in attaining a sense of joy by giving back to the community. She donates her time to several nonprofit organizations and also volunteers to serve at charities.
Grace's House by Swati GoorhaAHL Lounge meets this designer with a creative vision to unleash her thoughts on everything style and design.
Interior Designing as a Career Choice
Architecture, color, art, and the environment intrigues Swati profoundly. Observing these elements at historical cities and sites while traveling with her parents would fascinate her as a child. This fascination soon transformed into a career choice as she grew older. The verity that interior design utilizes these aspects to create a space that affects the inhabitants inspired Swati to become a designer.
Interiors Images licensed to Swati Goorha Designs use only
Swati treasures becoming a part of her client's lives while understanding their lifestyle and personality to conceptualize and create their space. "Each client has an individualistic style, and I respect that," says Swati Goorha. The lessons she learns from each client are unique and give her a new perspective on building homes that suit the client's personality and style.
Swati's Design Inspiration
Extensive traveling is Swati's greatest inspiration for her designs. As being a traveller she travels across 2-3 countries each year to explore art. "The more I travel, the more I learn, and the more I expand my perspective. The vernacular nuances in architecture and adaptation to local climate, culture, and geographical needs move me deeply. Be it an abode built of brick and mud in Morocco or the awe-inspiring Palace of Versailles in France, their functionality equally intrigues me", expresses Swati.
Classic Green Kitchen
Travel being an integral part of her life, Swati finds herself inculcating the historical information that attracts her in the most utilitarian and straightforward form in the modern homes she designs.
A Favorite Project
"Picking a favorite project is like picking a favorite child. You love all your children equally", connotes Swati.
Bar Area with Eclectic Seating options
Swati meticulously makes her project choices. "The clients approaching Swati Goorha Designs firm are aware of our strengths and work style, and we take ample time to understand their requirements," she says. This collaboration with their client helps them deliver timeless styles. Swati ensures that No design elements are repeated or replicated, and each of her creations is unique and spell individualistic style most aesthetically.
Key Aspects in Designing a Home
"I like to create design narratives that tell the story of the people who live in the house," says Swati Goorha. Some of the key considerations she mentions are the architecture and location of the building. The site also informs the design. "Mid-century modern interiors cannot be set in a Victorian house that would be incongruous," asserts Swati.
Utilizing Natural Light effectively
Natural light is one of the most critical aspects of producing professional-looking work. However, determining which light fixtures will provide you with the results you require within your workflow might be tricky. And Swati Goorha has a good hand in utilizing natural light efffectively. Each City and Country has its nuances based on climate, vernacular architecture, and distinct style and energy. These aspects are also taken into consideration while designing a house.
But as emphasized earlier, the most important aspect of design remains to be its inhabitants. The requirements of owners play an essential role as designing a home for singles or young couples is very different from designing a home for people with young children or empty nesters. We design for our clients, and we create a space where they can create beautiful memories and call home.
Midway Artsy Wall Accent
Current Trends in Interior Design
"We, as a firm, do not believe in following trends; good design is timeless. If you observe spaces created by designers like Alberto Pinto, Henry Samuel, Adolf Loos, they are still pertinent and eclectic although they were created ages ago".
Stylish Working Desk
Design Advice for AHL Readers
"Invest time to adorn your space. Your home should always be a work in progress and change with you as you go on the journey of life. Nothing is constant. Your needs change, your taste changes, and your home should also change with you. Small-scale efforts like changing the wall color, adding new art, changing window treatments can add a lot of personality to your space".
Swati genuinely believes that people should surround themselves with things they love and things that tell a story. Objects that you pick during travels, your grandfather's antiques, or something truly unique. These objects will narrate stories each time you look at them.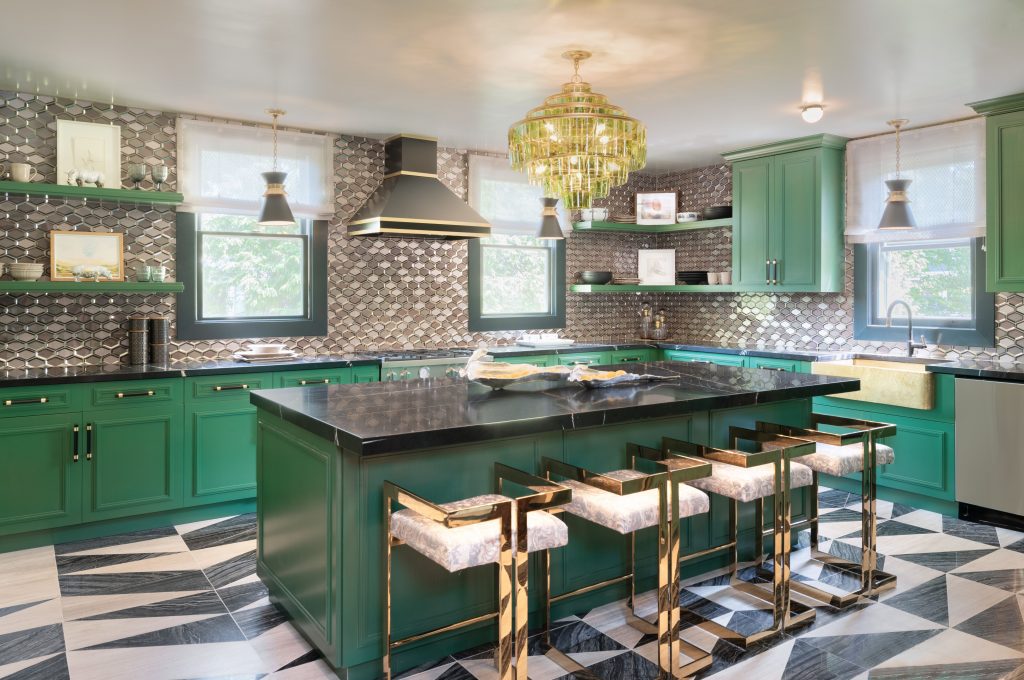 Kitchen with Island
Swati does not believe in matching items and sets of furniture. "You don't want your home to look like you stepped into a store and bought the products home," says Swati. Spaces should be eclectic and curated. Furniture should be inviting and comfortable. Swati advises on selecting pieces, not just for their aesthetic appeal but also their practical use.
Swati insists on having fun and enjoying the experience of building your homes. Proceed leisurely and build your nest one straw at a time.
Know more about Swati Goorha Designs at:
https://swatigoorha.com/