Disha Bhavsar & Shivani Ajmera are the Principal Designers and Co-Founders of Quirk Studio. Prior to crossing paths, each of them had an inherent penchant for design. The influence that physiognomy of a home has on one's quality of life inspired them. Working for renowned studios and design publications across the country for over 10 years has given them immense knowledge and experience. This experience has been beneficial in their consociation for Quirk Studio.
They attribute their success to their passion for design and impacting people's lives with their work. There has been no looking back for this duo ever since the start of their design journey.
Apart from the love for design what spurred your decision of interior designing as a career?
Disha: I grew up watching my aunt who belonged to the sphere of Interior Design. The creativity and work were so inspiring that it got engraved into my thought process to opt for designing as a career. Thence I pursued my Graduation and Masters in the field of Interior Design and Design Management Respectively.
Shivani: I believe that the realm of interior design came to me as a 'disguised opportunity' of sorts. Back in 2004, I had the window of opportunity to design a space as a media student. There has been no turning back since! I have also had the privilege to work with industry connoisseurs and went forward to acquire my Master's in interior design.
From where do you draw inspiration for your designs?
Inspiration is truly an unrestricted concept for the girls. It does not just manifest in one's day-to-day life but is also derived from places where you would least expect to find it, they say.
"Our cardinal source of inspiration is the surrounding space and environment, our travel experiences, and the study of art across disciplines". In the process of designing, the client's persona and sentimentality also develop into inspiration.
The secret they believe is to remain curious and hungry to evolve – "it always does bring us closer to things that motivate us creatively"!
Tell us about a project that has been close to your heart
Each project at Quirk Studio is a craft of passion, panache, and a keen eye for detail. Nevertheless, 'House No.12' is a project that has played a vital role in our journey as designers. A project that has been emblematic of our expertise. The home evokes a sense of exuberance, color, and eclecticism through elements like art, accessories, accent furniture, and curated lights.
The design brief was to create a home that suits a young couple in their early 30's with a toddler. And, the aim was to create a space that was aesthetically classic, contemporary, and modern. Catering to the design brief and working in tandem with the client's objectives House No. 12 is an idyllic residence amidst the bustle that surrounds Mumbai.
We visualize this project as the creation of a sanctuary for a young family embarking on their new journey!
While designing a house what are the things you take under advisement?
Being an end user's oasis every residential project has to consider the functional, emotional, and spatial needs of its inmates. It is going to be the space they will inhabit for years to come. It is imperative to understand the client's brief and personality at a deep-rooted level! Residential spaces designed at Quirk Studio are user-centric; they place great emphasis on spatial planning and circulation. We envision homes to meet every need and be a safe haven for our clients.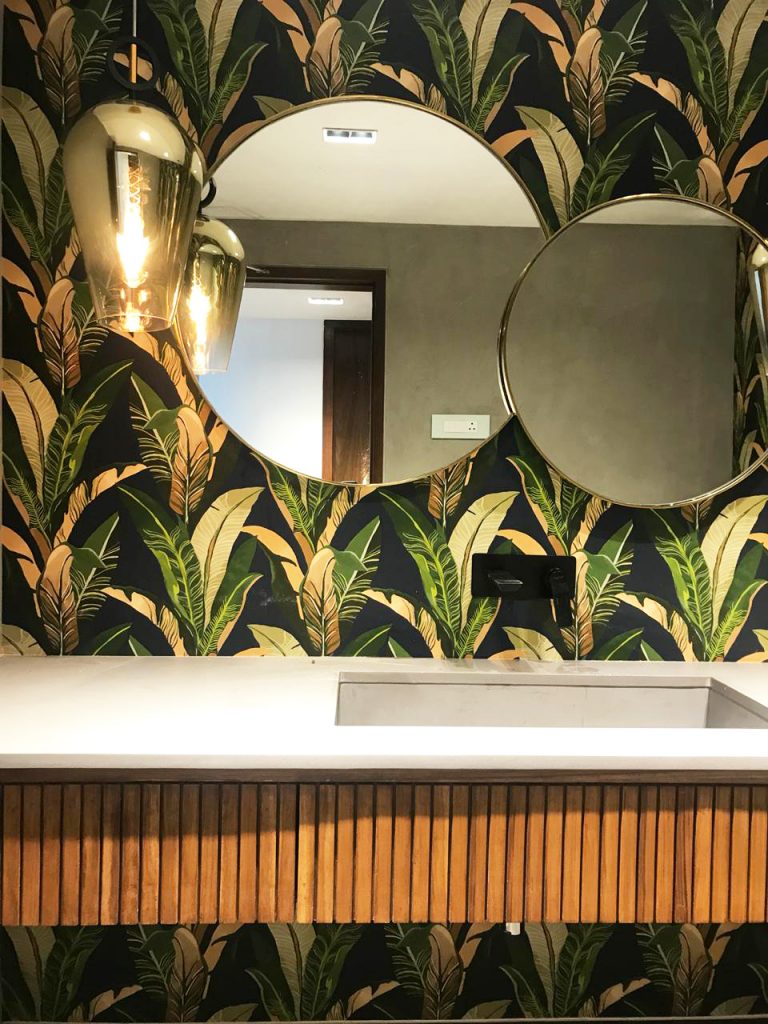 What are your thoughts on the current design trends?
Here are some of our favorite design trends that we believe have the inherent capability to add character to one's space!
Concrete: As a material, you can use concrete in a plethora of forms. With its array of finishes, it evokes a sense of minimalism and rawness. This makes it a key material in most design palettes!
Mixing Metals: Making a cameo sporadically, the trend of mixing metals is truly an eclectic practice that complements a space regardless of its genre. A traditional or contemporary space can celebrate the blending of various metals through accessorization, styling, or statement pieces.
Blurring Boundaries between Indoors and Outdoors: This is a timeless trend that we can vouch for! Biophilia certainly elevates and invigorates every space. Opening spaces into green spots like yards, balconies, or terraces adds to great appeal. Bringing the outdoors in, with a healthy dose of indoor plants is the quickest and most pocket-friendly makeover.
Aside from creating artful spaces the pretty ladies invest time nurturing various hobbies that keep them mentally stimulated!
For Shivani Ajmera it is revelling in the brilliance of Theatre and Music. For Disha Bhavsar it has got to be travelling and pursuing fitness!
Find them right here :
Website: https://www.quirkstudio.in/