Within the hustle-bustle of Mumbai, Kasturi Relekar designs a private, calm, and aesthetic dwelling for the creative inhabitants and their young son. A contemporary space with a streak of Indianness, art-deco style, and biophilia represent the look and feel of this house that is truly inviting. The conceptualization of this 1650 sq. ft. apartment at Rustomjee Paramount was done keeping in mind the likings of each of its occupants, and still and all creating a unified style. This is such an eye catching residence which not only looks beautiful that gets appereciation to the owners but also full of positive energy.


Colorful and Comfortable Seats with Indian Touch to Wall Deco


Multiform seating for the comfort of all
Sitting on a hard surface for an extended period of time can put tension on your spine, create muscular pain for days, and reawaken soreness in muscles that were previously unaffected.
It should feel as if you are supported by a sturdy (but comfortable) seat whenever you are sitting and your spine is in a neutral posture, using just the natural movements of your body. A comfortable chair and a well-cushioned sofa can assist in keeping your back straight and preventing scoliosis.
An expansive Living Room combined with dining at the heart of this residence has a vital spark. Exhibiting great style with its artistic wall accents and simple furniture that has traces of gold in different forms. The traditional bench swing provides an elegant partition to the living and dining area. This room is a perfect welcoming space with multiform seating for the comfort of all. The subtle hued upholstery with a profound use of colors is timeless, and evince the cheerfulness of the family.
A chic Home-Cinema experience with classy interiors along with a high quality home theater system, a walk into their home theatre unfolds an esthetic room with exquisite wall paneling that creates a perfect backdrop for an impeccable home-cinema experience. With just the right amount of natural lighting penetrating into the room, this space with its sheer minimalism defines elegance.
Stone wash basin enriching the look of a basic Powder Bathroom
Stone wash basin is becoming the latest trend in home and apartment design, as this material will help you create a cosy ambiance while also adding natural beauty and sophistication to your space.
Replacing the mundane ceramic washbasin with a stone wash basin has done a resplendent transformation to the Powder toilet. It has given the space an admirable charm.
Grandma's bedroom designed with clean lines and simple motifs
Grandma's room is infused with a blend of subtle hues and simple motifs. The clean lines of the wardrobe with a pristine toned wall and basal wall decor blend modern eclectic style with a classic touch. Trifling factors like the comfort of the headboard, the traditional rug, and a quick reach to storage relate well with the elderly in the house.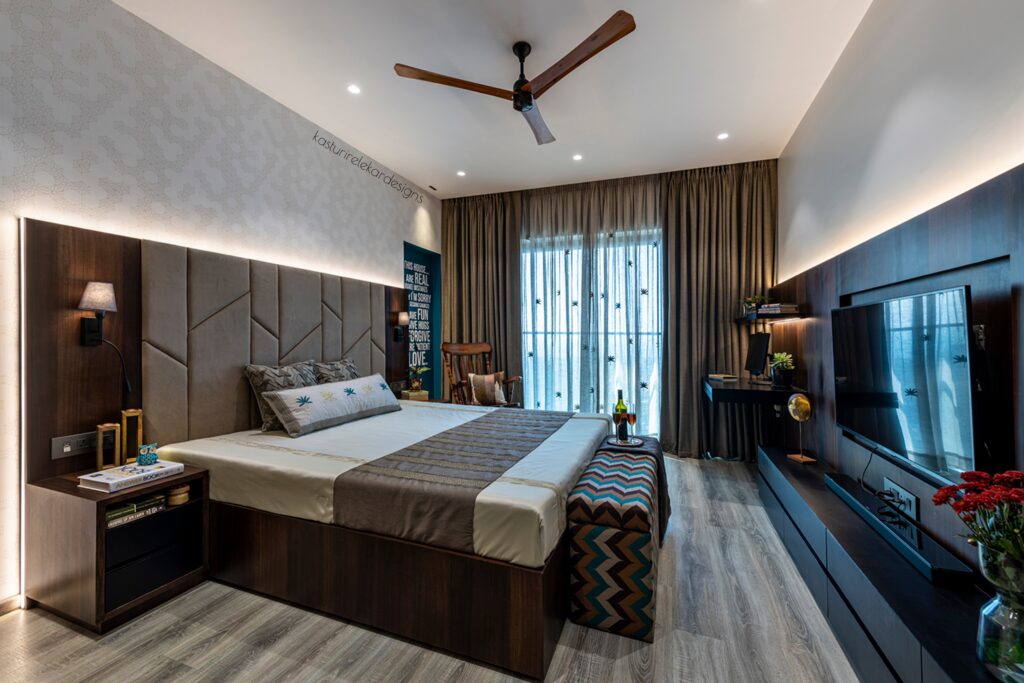 Earthy hues with an attractive Teal Wall to magnetize the space
The master bedroom is interestingly designed with amazing master bedroom ideas. Complementing the black and brown veneer is a beautiful wallpaper behind the bed. An abstract headboard with colors from an earthy palette is a huge turn-on. The teal wall grabs your attention and breaks the monotony of the neutral hues. The rocking chair, bench, and sleek finish from end to end give this room a tranquilizing feel.
Son's Room dominated by Royal Blue
For his love of sports and reading, the son's room has an edgy interior design. The upper bunk to his bed serves as a cozy reading corner, while the little passage beside the bed accommodates his sports interests. A lego effect wardrobe shutter resonates with his affinity towards the game. The brown veneer balances the royal blue, imparting a rich and elegant look to the room. Simple detailing in wood has resulted in smart and practical handles to the storage. Innovative use of linen, pillows, and curtains augments the style of this space. This edgy design has given a room a happening look.
While each room in the house is custom-designed the continuation and cohesiveness of the space is splendid. This house greets you with a lot of thoughtful layering, styling and use of soft furnishings that reflect the personality of its inmates.
Kasturi Relekar
Kasturi Relekar has design experience of over 15 years. "We create spaces understanding Indian sensibility and soul while giving the user a unique experience. I believe in minimalism, where well-thought details serve function without losing their aesthetics. I appreciate clean and sleek design where form defines beauty, but I also believe that layering of materials and patterns is the key to achieving ultimate luxury", expresses the lovely and creative designer.
Designed by: Kasturi Relekar Designs ( @kasturirelekardesigns )
Executed by: Racheta Interiors
Photographed by: Prashant Bhat