Moi Den – A brand that spells one's humble abode epitomizes elegant, comfortable, and timeless interior designs. Moi Den is your One-stop solution for luxury interior design. They offer space planning and design along with bespoke Furniture, Lighting, Flooring, wall paneling, wall art, and upholstery.
Shedding light on Vandana Goyal, the Founder and Creative Director of Moi Den. Vandana Goyal possesses a degree from the Fashion Institute of Technology, New York. Vandana's professional stints at reputed firms Jonathan Baron (New York, USA) and Casa Paradox, (Delhi, India) are key to ameliorate her designing skills. Passion for design has been genealogical for Vandana. Spiritual at heart, she follows Buddhism and has been practicing this philosophy since 2017 she devotes an hour or two each day for chanting and reading. She is a foodie and loves to travel and savor new experiences.
Here is a peek into Vandana's Design journey that began in 2012.
How did you single out on Interior Designing as your Career?
The potential inspiration lay in my childhood, seeing my father's passion for building and constructing residences. Architectural plans and frequent site visits have been an integral part of my childhood. This experience led me to further explore the field of interior design. Within a few months of my studies, I was convinced that Interior Design was my Career calling and being a interior designer was my destiny. The freedom of creating something, drawing your thoughts on paper, and executing the same to make it a reality was euphoric.
How do you contrive exclusive designs, from what do you draw inspiration?
We head for Modern and Eclectic Design for our inspiration and blend in different interior ideas to beget unique and serene interiors that elevate the meaning of Luxury.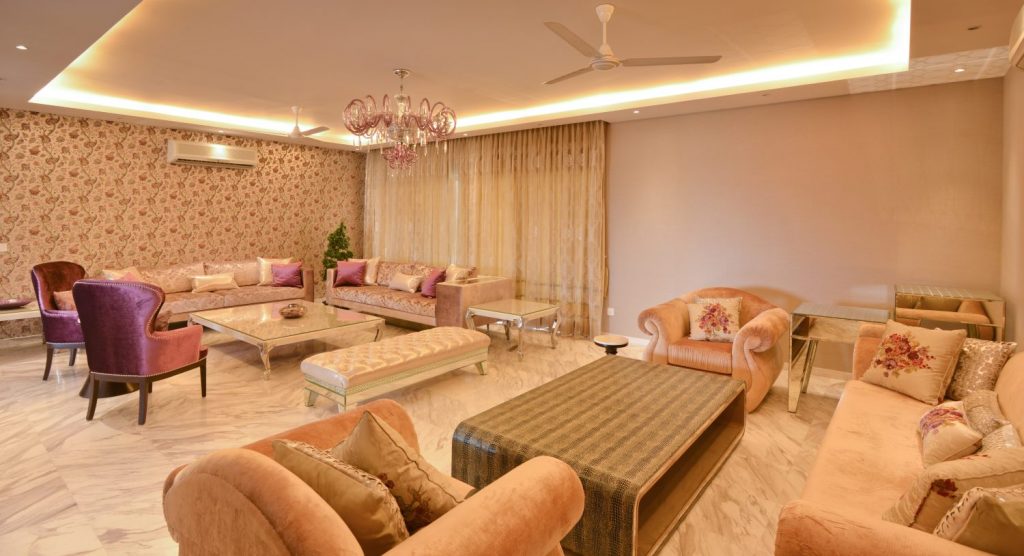 I strongly believe that my appreciation for the rich Indian culture along with my international experience reflects in the interior design styles and in the design creations of Moi Den Interiors which are a perfect amalgamation of east and west. Moi Den creates a home of experiences with glamorous and timeless designs.
Which project happens to be your personal favorite?
My personal favorite has been one of my introductory projects – Unitech World Spa, Gurgaon which was developed in 2012. My team worked whole heartedly on the interior designs of the this project from concept to creation. The space planning, ceiling design, bathroom drawings, and manufacturing of the furniture in our factory, every intricate detail was addressed exquisitely.
To begin the design process what things do you take into account?
My job is to convert a client's dream into reality. Analogous to a good Retailer, I anticipate the needs of my client and spend a lot of time and energy understanding their lifestyle and habits.
It is of key importance to us that our interior design inspiration and the spaces are designed taking into account the client's lifestyle, their aesthetic sense, and everyday practical needs. Moi Den ensures that the house reflects their personality.
Advice to our readers designing their homes?
I would advise all the readers who are looking to get their homes designed this winter to keep the following 3 things in mind:
The home should always reflect your own personality. So, follow the trends but always make sure it resonates with you on a personal level.
Invest in Antique Art, it is one trend that never fades.
Since Remote working and learning is the new norm, design spaces that are multifunctional in nature.
Here are the top interior Design Trends for 2022 conveys Vandana Goyal
Neutrals
Velvets
Black & White Interior Design
Boldly Patterned Backsplash Design
Floral Wallpaper
Mixed Metals Interior Design
Maximalism
Curved Sofas
Antique Art
Color Pop Cabinets
You can reach out to Moi Den Interiors at:
@moiden_interiors
Moi Den Interiors