You're wearing a full hazmat suit. Trying your best to dance but all you can do is shuffle your feet and flap your hands. There are a total of five people at this party. Including the DJ.
The clock strikes 12. You want to kiss your significant other. But the hazmat suit won't allow it. So you awkwardly bump your faces. Yay. Happy new year. 🙁
My goal isn't to depress you. It's to bring you to face the harsh reality that, honey, we're in Corona times.
You won't have to wear a hazmat suit to the new year party. (Or will you? Who knows what will happen by December 31st, 2020.) But you might decide not to go to any parties whatsoever.
So here's a happy idea after I've completely depressed you. If you can't go to parties this festive season, bring the party home to you!
A party at home is the safest bet right now. You invite the people you know and trust. You control how many people come. And you don't have to wear a hazmat suit.
For any great party, music is essential. And for music, the right sound speakers are imperative. I'm sure you have a home theatre system, but I'm talking about wireless bluetooth speakers you can move around.
Whether it's for hosting an incredible Christmas party. Or for belting out your favourite song with the volume on full. Or for binge-watching Mirzapur (again!) on your laptop in bed, you need to have the best, most easy-to-use and LOUD wireless bluetooth speakers.
Before we begin, here's a checklist of what you should be looking for in bluetooth speakers for your home:
Easy-to-use : Don't you hate it when your phone won't bleeping connect to that bluetooth speaker? Make sure what you're buying connects in one touch. And it should pair with all devices.
Portable and easy-to-carry : You should be able to take it anywhere.
High-quality sound : You should be able to hear every beat, every note. All the highs, all the lows, without compromising on the midtones.
High volume : So you can make it as loud as you want it to be. But you don't want a speaker that tears the music.
How long the battery lasts : + fast charging time.
Keeping these in mind, I've chosen four of the best bluetooth speakers in India. From brands that are the best in sound tech – Bose, JBL, Dali and Marshall.
So you can make informed choices before buying bluetooth speakers online. Or elsewhere. And give me duas when you're enoying music playing from your speaker.
If you love hosting get-togethers and karaoke nights, the S1 Pro is for you.
With this speaker, you get to be the DJ. Make announcements using the microphone jack, or jam with your keyboard or guitar.
The Built-in ToneMatch helps mics and guitars sound natural. This Bose speaker has Auto EQ, which adjusts the system tone for great sound. In any position the speaker is in.
Weighing around 7 kg, the Bose S1 Pro has a rugged enclosure with a built-in handle. This means you can keep it in your living room for a party at home, or take it with you for a BBQ at the beach.
You can place this bad boy anyhow you want. On the ground, on its side, tilted back, or elevated. Built-in sensors, Auto EQ and a unique multi-position design makes sure the music sounds full and balanced.
The rechargeable battery gives you up to 11 hours of play time. The Quick Charge function helps you recharge in a hurry. So you can party all night long.
The Party Girl- JBL Bluetooth PartyBox 1000
The JBL PartyBox 1000 wireless bluetooth speaker is for you if you love being extra. Because not only is this bluetooth party speaker powerful and ticks all the boxes, but it also has a full panel light show. You could even say it's, ahem, *lit*.
Sorry. Couldn't help myself.
This wireless JBL bluetooth speaker has a Mic and Guitar input. Coupled with the LED light show, you'll feel like the rockstar you are.
With the TWS (True Wireless Stereo) feature, you can connect two PartyBox speakers wirelessly. Or, y'know, use good old-fashioned AUX cables.
The sound output is a whopping 1100W. It's heavier than the Bose S1 Pro, weighing at 9.7 kgs. But it has concealed wheels so it's super easy to move around. The battery lasts 12 hours.
This home sound speaker won the iF Design Award 2020 for User Experience. Because it's a DJ, light show and orchestra all rolled into one. It's a real party machine.
The Hipster- Marshall Woburn II Bluetooth Speaker
This bluetooth speaker is hands-down the best-looking one. Especially if you want one that goes with your vintage theme.
The Woburn II is the largest bluetooth speaker from Marshall. It boasts a full-bodied sound- it hits high trebles, handles low bass with ease and has a clear, lifelike mid range. Weighing at 8.55 kg, this one's super portable as well.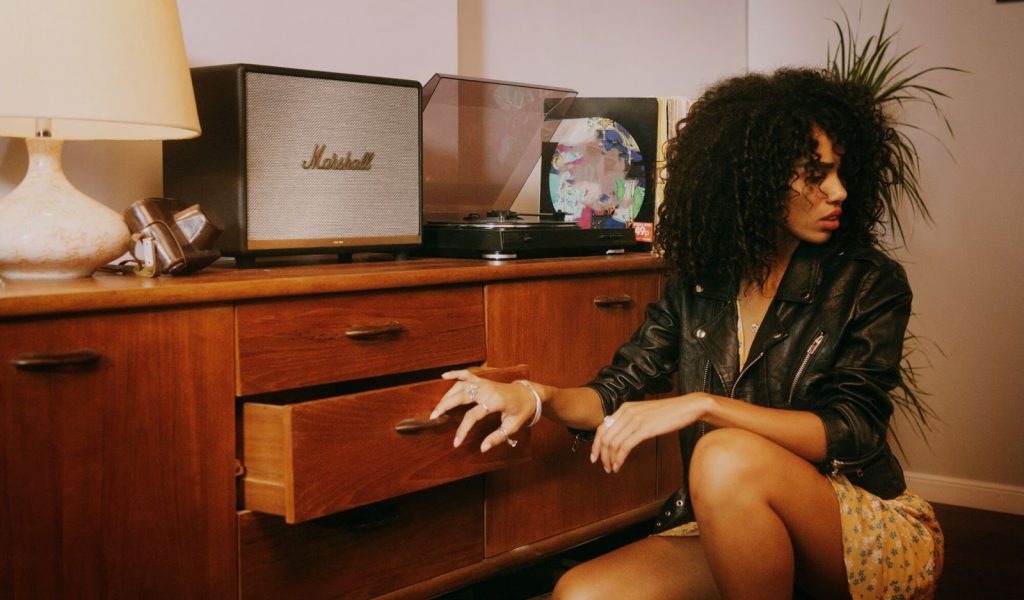 A unique (and vintagey) feature is the Analogue Control knobs. If you're finicky about your music, this speaker lets you fine tune it these Analogue Controls.
You can also use the Marshall Bluetooth app to customise your listening experience. Or control the music you're listening to. Use the app to switch between EQ presets, set up stereo or ambient mode and adjust the intensity of the LED lights on the top panel. You can also wake up your speaker or put it into standby mode in a matter of seconds.
This speaker also features multi-host functionality. This means you can connect and switch between two Bluetooth devices easily.
But what I personally love the most about this Marshall wireless bluetooth speaker is, you guessed it, its looks. There are three colorways. A minimalistic white speaker with brass accents and a retro design? Hell, yes!
The classic iconic Marshall design gives it that retro look I talked about. A textured vinyl covering, salt & pepper fret and the iconic script logo on a wooden frame. This is one speaker you'll want to display in any room.
The Working Girl- Dali Katch Bluetooth speaker
Unlike the other three, the Dali Katch is a smaller wireless bluetooth speaker. And because this Danish brand loudspeaker delivers rich sound from a compact chassis, it's portable audio at its best.
The Dali Katch has two audio profiles: 'Clear' and 'Warm'. 'Clear' is perfect for most listening situations and music genres. 'Warm' is for when your music needs that extra bass. Perfect for playing in larger rooms.
This is THE bluetooth speaker to carry around. It weighs 1.1 kg. The powerful 2600 mAh internal battery gives you up to 24-hours of non-stop playback.
But it's not just that. It has a cool leather strap, making it easy to carry anywhere. You can release or fasten the strap in place easily using a click and slide function.
I love that this bluetooth speaker has NFC for a quick and effortless connection. You can even connect with Chromecast. And it comes in two colours. The speaker, not the dongle.
To sum it up, it's a good-looking, sleek and compact bluetooth wireless speaker. But don't let the size fool you. It delivers on sound quality, as you can see by the customer reviews.
There you have it. Four of the best bluetooth speakers for home. From the best brands.
A rugged-looking, no-fuss speaker.
A multifunctional speaker with a fancy-schmancy LED light show.
A retro-style bluetooth speaker that'll be the topic of conversation of your room.
And a portable one you can toss in your bag or carry using a strap.
Choose the best one for you. Or buy them all. Or gift me the Dali Katch.
It's up to you!
And have a wonderful party season rocking out to your favourite music at home.