How a Complete Home Theatre System Can Transform Your Movie, Music, and Gaming Experience. and Make Your Home Even More Enchanting.
We all know that the unique situation we have right now in India right now means that staying at home and having the best entertainment is super important everybody is having plenty of free time apart from working from home, so the home cinema has become the best friend of the entire family. And having a complete home theatre system is just what you need during these times. At All Home Living's home technology section, our sound experts enjoy designing and installing home theatre systems from top international brands. In this article, we talk about the four major benefits to having a complete home theatre system for home cinema.
1. More Speakers = Better Sound
Best speakers are one of the best quality speakers available in the market, giving incredible and better sound with powerful bass. A home theatre system, especially one that has a 5.1 Focal surround sound like the 5.1.2 Focal Aria 926 Speaker Package and 5.1 Focal Dome Flax With Sub Air, includes a number of different speakers that you place around the room- on the wall, in the ceiling, on the floor. These speakers provide a fuller and more accurate sound that fills the entire room. It doesn't matter what you're playing, you hear the best of it. So whether it's music, movies or gaming, you get the highest quality sound possible because of those home theater packages extra speakers.
2. High Quality Sound Throughout the Room
There's sound, and there's high quality sound with high resolution audio. One that has well-defined mid-range, and doesn't distort the bass. So you get a pure, harmonious sound. High resolution audio has long been one of the most desired features in the world of digital music, the means for producing it have become increasingly difficult. A high quality surround sound system like the Dali Oberon 5.1 System and Dali Oberon 5 Speaker Package have AVR that provides impressive high resolutioh audio that fills the room no matter where you're sitting. So the entire family can gather for movie night and no one's complaining about the sound.
3. Full Maza of Movies in Your Home Cinema
The home cinema is the ultimate entertainment experience for some people. We're not saying you need to make a separate home cinema room. We're saying all you need is the right home theatre system to transform your living room into one. Because who doesn't love sitting back and enjoying movies and Netflix with family and friends? It's one of life's little pleasures.
You'll enjoy these movies and series to the max once you customize and install a best quality home theatre system. Like the Gallo Acoustic Micro with Profile Sub 5.1 Home Theater and Gallo Acoustic Droplets Speaker. Because a home theatre provides sound that's accurate and defined. So you get dialog that's crisp and clear. And movie soundtracks and your favourite Bollywood numbers play in their fullest, richest sound.
4. An Incredible Gaming Experience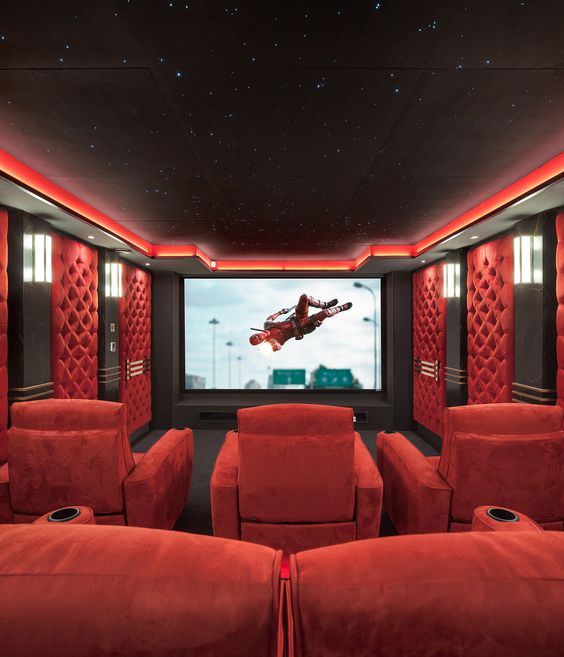 Let's face it. Video games have the best graphics and soundtracks, right? While a big AF television can go a long way towards creating an amazing gaming experience, you can't forget sound. And most advanced games include the power of a full surround sound. So why not take advantage and get the most of that with a home theatre system? Having the surround sound in your home theater, you'll be able to hear your enemies behind you, get swept away with the inspiring soundtracks, and have the best advantages when you play.
Connect your gaming system to a home theatre like the 5.1 Focal DOME FLAX with SUB AIR Home Theater or the Focal Dome Polyglass 5.1 Home theatre system, and you'll enjoy your gaming like you never did.
Final Thoughts
So now you know that investing in a quality home theatre system gives you a lot of benefits. You transform your living room into a home cinema when you want, fill the house with your favourite music and enjoy your gaming time to its fullest.
Want to start your home theatre system search? Check out the massive collection of the best home theatre and AV solutions at All Home Living. With a listing of international brands like DALI, Focal , Gallo Acoustic, Benq, Epson, Sony, JVC, Denon, Marantz , Q acoustic, Monitor Audio, Dynaudio, DNP, JBL, Devialet, Marshall, Bose, Milan, AudioQuest, HOC, Devialet, and more, you're bound to find what you're looking for.
And even if you don't and need help, our experts will help you select the best option that suits your budget. Just call or WhatsApp us on +91 9607929868. We even have instalment plans at 0% interest. AND we deliver all over India! (We know, we're awesome.)
If you're in or visiting Pune, drop by at our sprawling showroom in Pisoli where you can experience real sound with our exclusive live demos at the home theatres designed at Ozel Homes Studio.
Q: What is the benefit of home Theatre?
Q: What is the benefits of surround sound?
Q: What is a home cinema system?
Q: How is surround sound used?
Q: What is the meaning of 5.1 surround sound?