The design experts at Ozel Homes break it down on how and where you can place mirrored furniture to make your living room look and feel stunning.
Mirrors add depth and brightness to a room. They play a significant role in all interior decor themes. But why limit yourself to plain old boring wall mirrors when you can be different with elegant mirrored furniture?
At Ozel Homes, we house the largest collection of exclusive mirrors and mirrored furniture in India. All our mirrors are made in our factories in Nagpur. You can check out our collection by stopping by the vast Ozel Homes furniture showroom in Pune or shop Ozel Homes mirror furniture online. We deliver all over India.
In this article, we're going to show you a few unique ideas on how to enhance the decor of your living room with creative ways of integrating mirror furniture into your interiors.
Amplify Sunlight with a Mirrored Centre Table and Chest of Drawers
Make the most of the sunlight you get in your living room. A mirror-topped centre table will amplify sunlight during the day. Hang pendant lights above your mirrored centre table to create a gorgeous cozy ambience with diffused lighting in the evenings. 
Placing a mirrored chest of drawers against a wall is a chic and practical storage space that'll match your centre table and make the entire room feel regal.
Small Mirrored Side Tables & Stools Work, Too
Is your living room on the smaller side? Or perhaps you already have a lot of furniture in your living room. You don't have to add a big centre table or cabinet. Try a mirrored stool and/ or end table. 
A sleek side table placed neat to a sofa will make all the difference in adding glamour and light to the room. You can even try mirrored nesting tables that you can use to serve guests. And wow them with your exquisite taste.
Retro & Vintage. Or Modern & Abstract?
One of the most unique features of mirrored furniture is that it can be in a classic vintage shape, or a super modern abstract shape. Add a vintage Venetian touch to your living room with a mirrored Venetian console table or a centre table with a Grecian art deco touch.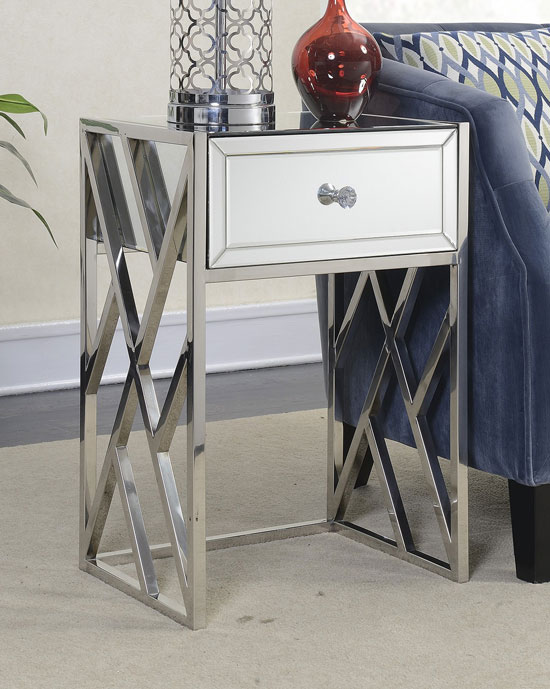 Or add an abstract touch with a sleek octagonal mirrored prism side table. Or a geometric side table with thin steel panels. And you don't have to worry about the rest of your decor. Mirrored furniture goes with all types of interior themes.
Mirrored Bar Furniture & Consoles
Living rooms usually have an empty narrow wall, the entrance passage, or the foyer area. Even if you're not using these, adding a mirrored touch will elevate these small, forgotten areas. Place a narrow mirrored console table against these walls to bring life and light into these areas. 
And of course, if you love entertaining with an impressive bar, mirrored bar furniture will make this area look amazing. Imagine all the light and liquid reflecting off of the mirrors.
Final Thoughts
We hope you liked these ideas on making the most of your living room using clever placements of mirrored furniture. Can't wait to try one of the above ideas out? Browse our vast collection of mirrored furniture online in India- ranging from console tables, chest of drawers, centre tables, side tables and stools and bar furniture. Don't forget to accessorize with wall mirrors and lamps, for that added oomph.
We also customize your mirrored furniture as per your liking. And we deliver your all over India. Book your appointment for shopping via video calling. Quick call/ Whatsapp on +91 9607929866/68. Our timings are from 10.30 am to 8 pm IST.
You can now pay through easy instalments when buying furniture over INR 5,000. At 0% interest and no additional charges, with an easy 12 month EMI.
Let us know which idea you'd love to try first, or if you have a unique idea we haven't thought of. Leave us a comment below.