Dull Spaces make Dull Lives! But it's never too late to brighten up your space and brighten up your lives. It is important to adorn naked walls but it is also important to do it right so that you don't get overwhelmed on entering a room. We shall take a gander at some of the greatest wall decoration ideas for living room. Each wall decor idea listed here has its own charm. You can tuck in any of these modern living room ideas to enhance its physiognomy.
Wallpaper or Paint
A dramatic wallpaper or a soothing color on the wall can make quite a statement in your wall decor living room. The options you have with wallpaper are endless, they are budget-friendly, and they can be changed over the years with minimal effort when compared to paints. But wall paints have their own advantages they are more durable, last long with minimal maintenance. You can choose from a variety of wallpaper designs and colors ranging from rustic and floral designs to geometric and abstract ones. Custom mural wallpapers are trending too and will add to that striking feature of your room.
Wall Art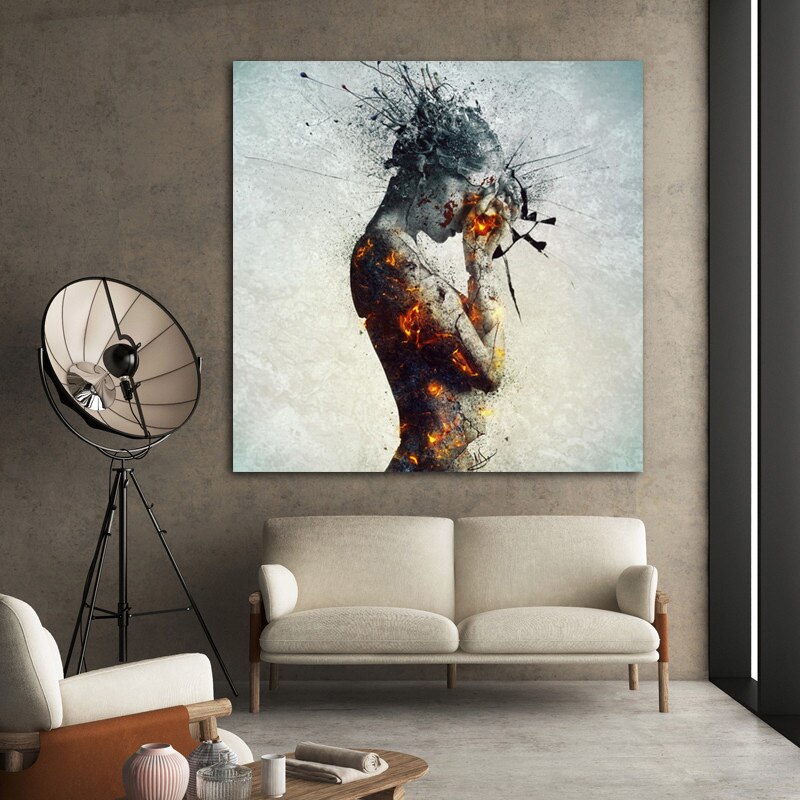 Large Wall art ideas are yet another stimulating resort. You can add an oversized piece of art and let the painting do the style talk. Paintings can of course be selected according to one's taste and style and can bring in energetic vibes. Metal wall art decor is yet another innovation. These metal wall hanging art in 3D are brilliantly designed to fit your tastes. Florals, Horses, geometric designs and many more in beautiful rustic finishes or metallic shades that suit your interior style.
Check out some wall decor ideas for bedroom and exclusive 3D Mural Wall Paintings here.
Photo Frames
You may be wondering how to decorate a small living room? Well, nowadays people have long been turning to Photo Frames for decorating their walls with large wall decor ideas for living room. Picture Frames are amazingly versatile as along with the art or photo the frame, the glass, and the mount everything adds up to the beauty and enhances the look of the wall. You can get a gallery wall done or add paintings by famous artists framed to get that classy look to your living room. A family collage in the bedroom will bring in a feeling of warmth and motivational quotes framed on the study walls will keep you going each day.
Get more insights into framing by ace Framer Ali Asger in this enlightening conversation on AHL Lounge.
Statement Wall Clocks
Hanging a statement wall clock also elevates the wall visage. A grandfather clock leaning towards the wall will spruce up the vintage look of any house. Wall clocks in sleek finishes can give a nice modern touch. Pendulum clocks likewise impart a modish look. Cuckoo Clocks have also been a rage since a long long time. The availability of wall clocks online have opened up a wide choice for us.
You will find one of the best handcrafted collection of Black Forest Cuckoo Clocks at All Home Living.
Wall Decor Mirrors
Mirrors have that evergreen charm to them. They look royal in any style of home interiors and can brighten up any space. There are plentiful mirror decor ideas with several mirror designs online and it's sometimes hard to choose. It is said that a mirror in the dining room facing the table attracts health, wealth, and abundance. Fancy wall mirrors on living room walls or metal frame mirrors on the bedroom wall. They all up the style quotient effortlessly.
Get more ideas here on how you can place mirrors in your house.
Wall Lights
Another way to festoon your wall is by adding lights. You can be very innovative when it comes to lights as well. I have adorned my Dining room with lights inside beer bottles that hang on the walls (Pic enclosed). You can add decorative wall lights in your bedroom or living room. Wall Sconces can also be added to empty spaces. If you have photo frames set hanging on your wall then you can adorn them with some fancy picture lights too. Light placement is again very essential. You get lights which are upwards downwards or both ways. Depending on the functionality you can place the right ones.
Bedeck your walls with these wall decoration ideas and grace your interiors. Wall decoration should follow a minimalist approach and should not be too extravagant as it mars the beauty of the room. Feel energetic with vibrant wall decor or be at peace with some tranquilizing art. Empty walls are like a bare canvas and you have the brush to paint it right!
[2] Decorative Hanging Wall Mirror
[3] Blackforest Majestic Cuckoo Clock