The best speakers and accessories AHL recommend from Devialet– the iconic French brand that's changing the speaker and amplifier market with its looks and tech of its surround sound speakers.
There's a paradox in the world of sound. In terms of availability, music has never been so accessible. But the quality of sound and the way technology manages to restore it remains questionable. Clarity and thousands of details make music what it is. And that's what's hardest to reproduce.
Devialet was born in 2007, as a response to that very problem. Their goal was to make it possible for people to listen to perfectly restored sound using everyday devices. Step by step, they made this dream come true, thanks to radical innovations by their hard-working engineers. They sparked a real technological revolution in the audio world. Since starting, they've registered 200+ patents.
Headquartered in Paris, today Devialet is the most critically acclaimed start-up in the world for innovation and excellence in audio inventions.
The unique factor about this French brand is ADH Technology. ADH stands for Analog Digital Hybrid. It forever changed high-end amplifiers. ADH® is a patented invention that's considered a mind-blowing feat. Because this hybrid technology seamlessly blends digital and analogue to produce sound quality unlike anything previously experienced. ADH is now in every Devialet product.
So if you're looking for an exceptional sound that delivers on all scores:
A super high performance-to-density ratio
Zero background noise, distortion or saturation however loud the volume
Implosive bass you feel with your whole body.
And really uniquely shaped speakers and accessories, then Devialet is for you.
The Best Devialet Speakers and Accessories in India
Devialet Phantom Premier Speakers: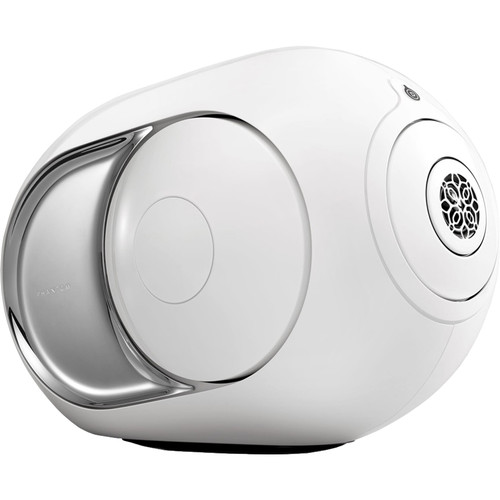 Devialet Phantom Premier are in another class of loudspeaker. Unlike any wireless speakers that have come before, Phantom Premier's revolutionary technologies fuse to deliver an intense emotional experience. One that you can literally feel in your body.
You can feel the physical impact of a high-end ultra-dense sound with power. With clarity and precision like nothing you've ever encountered. In this series, we recommend Phantom Reactor, the Classic Phantom and Gold Phantom Opéra De Paris.
Devialet Phantom Reactor 900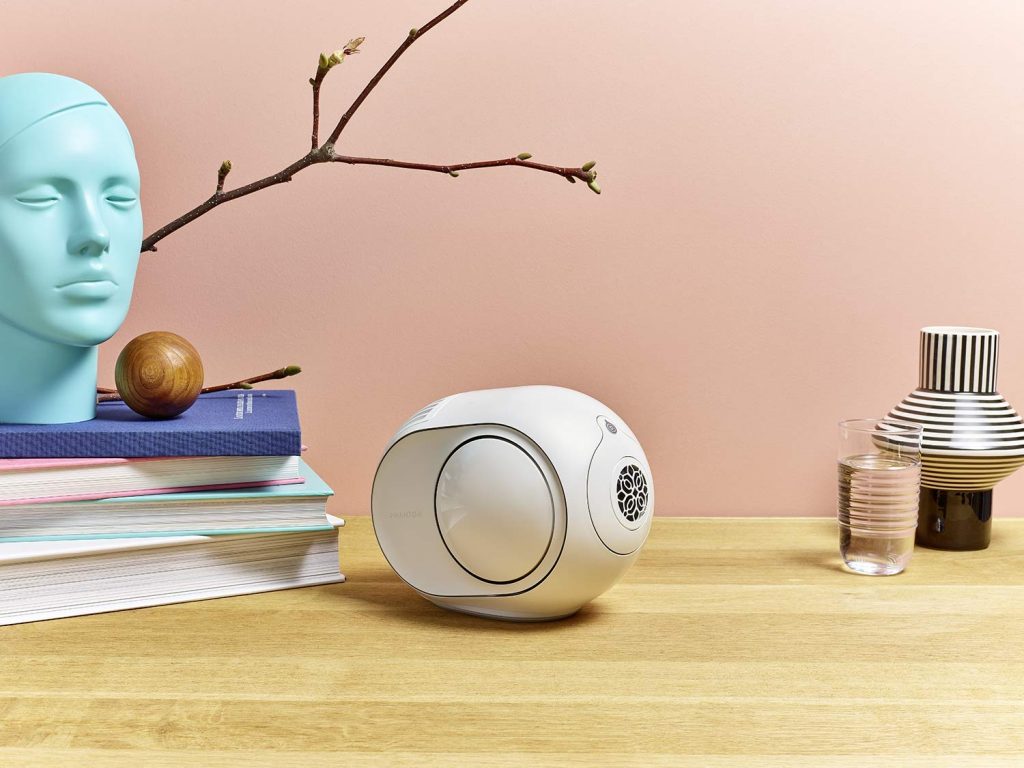 Phantom Reactor is a new breed of bluetooth speakers. By stretching size and performance beyond reasonable limits, Devialet engineers have brought to life the only ultra-compact home sound system capable of delivering high fidelity and physical impact, whatever volume you listen at.
Because of the Phantom Reactor's open architecture, you can connect how you want. Bluetooth or Wi-Fi, optical or analog, AirPlay®, UPnP, Spotify Connect. So many options!
The Phantom Reactor's spherical design redefines Solo performance and makes it one the best bluetooth speakers in the category. You get to experience rich and unspoiled acoustics, wherever you are. It looks extra small but sounds extra large. Surprisingly compact for a system this powerful, Phantom Reactor fits in almost anywhere. It's made for compulsive listening experiences, which is why it's easy-to-carry, weighing just 4.3kg. And it features every available Devialet technology.
The HBI® or Heart Bass Implosion is a one-of-a-kind system, designed to take you deeper into sound. For the first time, an ultra-compact home speaker is able to reproduce ridiculously low bass that resonates beyond the limits of the human ear, throughout your entire body.
The Phantom Reactor is built around a novel structure: two hermetically sealed woofers powering together under extreme pressure. The sheer thrust force behind each lateral woofer generates physical impact. This shouldn't be allowed for loudspeakers this small. It's infra bass that you can feel in your bones. This speaker is also available in 600w.
Devialet Classic Phantom
Classic Phantom features every class-leading Devialet invention bringing you high-fidelity and ultra-dense sound in a compact design making it the best portable speaker that fits in your home. You'll feel the physical impact of sound unlike anything you've ever felt before.
Because of their tech, you experience the full immensity of tracks you've already heard thousand times over. From sub-bass to ultra-sharp treble, you get to explore your music's full potential. With zero distortion, zero saturation, and zero background noise.
With 108 patents, this is 12 kilos of high-end technology. It has 60 kilos of thrust force behind the lateral woofers. And 174dB of internal acoustic pressure. That's immense! With this sleek and curvy speaker, you get to experience your music with the extreme power, clarity and precision.
Everything about it is breathtaking. The sound quality, and its looks. It comes in a minimalistic white body with polished stainless steel sides.
Connect to this wireless speaker through Airplay and Bluetooth. The amplification power is at a peak of 1200w. At its core is the ARM Cortex-A9 MPCore 800MHz dual-core processor. The loudspeakers have aluminium tweeters, medium and bass drivers. Don't be fooled by its compact looks. This baby can deliver power!
Devialet Gold Phantom Opéra De Paris
The Gold Phantom Opéra de Paris is an exclusive edition of the Phantom Premier Speaker series. It features Devialet's latest technological advances—4500 Watts of power, 108 dB, 14 HZ. It's a powerhouse of technological innovation that delivers an unforgettable performance.
This edition is a rare work of art. Drawing on the iconic interiors of the Palais Garnier, each Gold Phantom is emblazoned with the bespoke Opéra de Paris | Devialet logo. The master gilders at Ateliers Gohard finish the Devialet Phantom's gold leaf gills according to time-honoured methods.
With a Grade 1 Titanium Tweeter driver, Aluminium Medium driver and Aluminium Bass drivers, you get exquisite clarity of sound. Like the Classic Phantom, this speaker has the ARM Cortex-A9 MPCore 800MHz dual-core processor. The amplification power peaks at 4500w. That's explosive sound that packs a punch. And it looks so good while doing it!
It's definitely one to add to your living room to match your gold minimalistic interior decor. You can add its wireless surround sound system to your home theater speakers to get the best entertainment experience. Place it near our exquisite metal 3D mural paintings for an eye-catching setup. The speaker is also available in 900w.
Devialet Sound Accessories
Devialet Dialog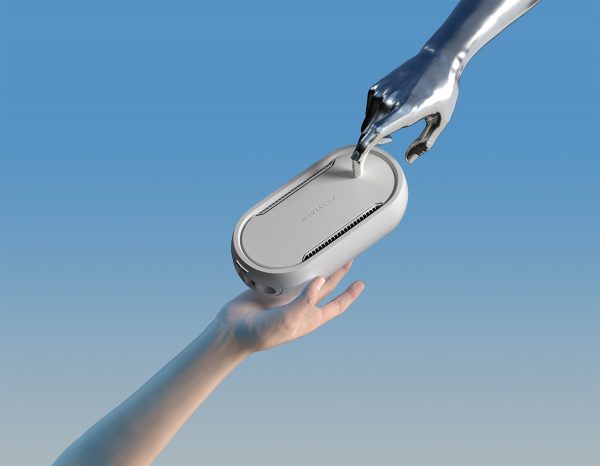 The Devialet Dialog is Phantom's intelligent hub. This device lets you synch all your Phantom systems. From one Phantom solo to many Phantom speakers in different rooms. All this, with perfect network stability.
This is done through its high performance WiFi network of 2.4GHz + 5GHz + PLC with each Phantom. The proxy and NAT management create a stand-alone network for each individual Phantom.
So whether in two rooms or more, Dialog lets you control all your Phantom systems. In an instant and at the same time. This means that you can transmit audio data via PLC even in rooms where your WiFi signal can't reach. It's a must-have if you have more than one Phantom speaker.
Devialet Treepod Speaker Stand
Treepod speaker stand is la cute little tree for your Phantom speakers. Its the perfect stand for the Phantom Premier. It has a clever base which supports equal pressure from every side. Treepod connects thermally to Phantom Premier. It provides optimal conditions for high-endurance performance.
More than a stand, Treepod is a design statement. Its minimalist design is a beautiful combination of form, function and technology. Perfect woodwork makes the Treepod's solid beech legs fuse seamlessly with hand-polished ultra-resistant aluminum alloy. Phantom sits at 345mm above ground level on the Treepod.
What we at All Home Living love is that Treepod is made with wood sourced from sustainably managed forests. It's assembled in Devialet's workshops in France. The Treepod shows off your Phantom's gorgeous silhouette in all its splendour. On an sleek, elegant design made from the highest quality materials.
Legs this great could only be French.
Devialet Legs – Phantom Reactor Speaker Stand
Devialet Legs is a floor stand for your Phantom Reactor. They run on the same power cable as Phantom Reactor. Legs fuse seamlessly with the Phantom Reactor. Both together make a bold design statement because of the sleek silhouette. The isostatic base, which is a fancy word for equal pressure from all side, is a solid support for the stand.
Legs come with their own security mechanism to ensure Phantom Reactor remains firmly attached to the base. However wild things get. Legs can be used on all types of flooring. The felt pads on Legs mean zero scratches or slipping.
A speaker stand made for high-precision listening. Because Tree raises Phantom Premier to ideal listening height. Precisely 660mm above ground level. This is suited to Hi-Fi stereo setups as it delivers the ultimate audiophile experience.
It comes with a built-in cable that replaces the original. A second cable connects your setup to the wall socket. Ultra simple. You'll also receive an RJ45 and an optical cable.
Tree connects thermally to Phantom Premier, thus providin total stability. This provides perfect conditions for high-endurance performance. Minimalist and discreet, the stand ensures Phantom Premier's cables remain hidden.
A remarkable piece of craftsmanship, Tree is made from whitened wood veneer pressed against an ultra-solid cast aluminium column. Available in wood or white finish.
We hope this article helped you get better information about this revolutionary French sound system brand. And that now you can make an informed purchase decision on which Devialet is best for your home.
AHL is an authorized supplier of Devialet. We deliver all across India. Now you can book your appointment for shopping via video calling. See what you want live before you buy. Quick call/ Whatsapp on +91 9607929866/68. Our timings are 10.30am to 8pm IST.
Let us know which Devialet speaker or accessory is your favourite, in the comments below!
All our teams are hard at work, turning an insane ambition into an extremely concrete reality.
Devialet's DNA finds its source in the influence of philosophers from the Enlightenment era. Our name is a reference to engineer Guillaume Vialet, a companion of Diderot and contributor to the French Encyclopedia. Vialet is widely known as one the intellectuals who, through their intellectual, cultural and scientific commitment, contributed to the betterment of the world.
At Devialet, we don't believe in everything in moderation. Since day one, we've been on a mission to bring the depth of emotion of high-fidelity sound to as many of you as we can. By constantly pushing to better our breakthrough technologies, we have been able to give you Expert Pro and Phantom.
More than ten years of research and development were needed to fuel life into Phantom.
Forget what you think you know. Unlike any wireless speakers that have gone before, Phantom's revolutionary technologies fuse together to deliver an intensely emotional experience.
Phantom
The year that changed the sound. Devialet unleashes Phantom. The intense emotional experience of ultra-pure & ultra-dense sound with physical impact. A whole new species of speaker that obliterates all existing systems. Revolutionary.
Q: Is Devialet speaker good?
Q: Is Phantom reactor worth?
Q: How do I connect my phantom speaker to WiFi?
Q: Is Devialet Phantom Gold worth it?
Q: How do I reset my Devialet speaker?