Mirrors are an important part of every household. They are used for decoration, for shock value, and even for glamour. The interior experts at AHL round up the most stunning wall mirrors in our handcrafted collection, to transform your living room.
Mirrors are fascinating. Not only are they affordable and useful, but investment pieces double as a work of art. They have the power to brighten, open up and bring great energy to a space. They multiply the sensation of light. It's no wonder they're one of the most important aspects in interior design.
Which is why, at All Home Living, we have a large collection of decorative mirrors and mirrored furniture that'll bring joy to any home. Our mirrors are made in our factory in India. This allows us to make unique, stunning designs that you won't find anywhere else. It also allows us to customize your mirrors and mirrored furniture to suit your exact taste, style and size of wall or room.
In this article, we highlight 21 breathtaking wall mirrors from our massive collection. All for your living room. Let's get started!
Designer Rectangular Wall Mirror
Designer wall mirrores plays an important role in the interior of a home decor. This rectangular wall mirror is a handcrafted designer piece that'll add a touch of glam to your living room. The clean rectangular shape adds a contemporary and stylish touch, while the wide Venetian leaf design border adds a royal vibe.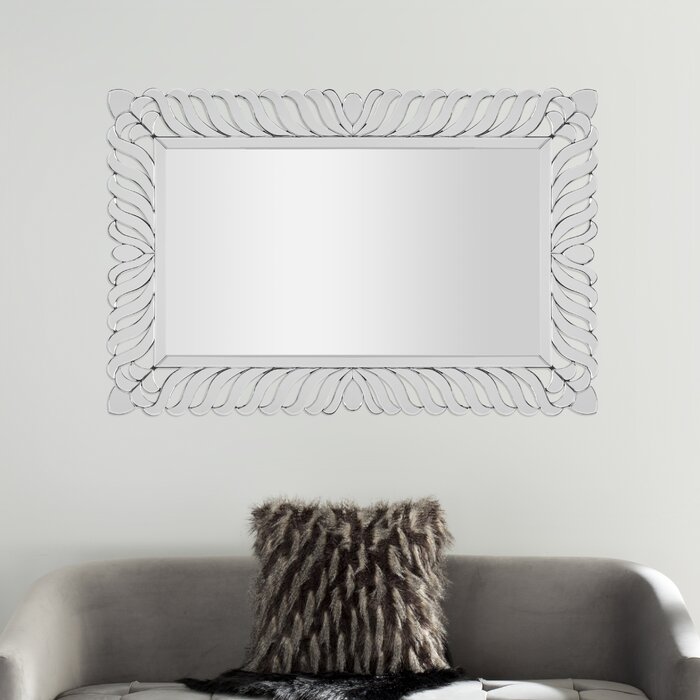 It can be hung horizontally over a console table or over a two-seater, as shown in the image above. Hang it vertically on a larger wall with a
Long Wall Mirror for Dressing Table
While this mirror would look amazing over your dressing table, it'll be a statement piece to have a full length mirror in your living room. With it's well-crafted borders and the rich design on its crown, it'll serve as the antique talking-point. Without being an antique.
Long Wall Mirror for Dressing Table
Is it from your latest trip to Italy? Was it specially handmade? Your guests will never be able to guess.
Rectangular Venetian Bedroom Wall Mirror
Measuring 42 inches in width, this horizontal rectangular Venetian mirror is a spectacular example of mirror handcraft techniques. With etchings and engravings on its borders, and baroque motifs painstakingly cut and fused together for its crown, it's a masterpiece of mirror handcrafting. It can definitely be used as a bedroom mirror.
Long Wall Mirror for Dressing Table
Contrast its rich vintage looks with a hanging pendant light in a modern shape, for a unique contrast. Enjoy the ambience in the evenings as the mirror reflects the warmth from the pendant light and creates a cozy mood.
Venetian Hanging Wall Mirror
This is a mirror fit for nobility. With its unusual curves and shape, it takes you back to olden days of knights and shields. Exquisite hand-cut motifs and etchings add to its spectacular beauty. Hanging mirror on wall gives the wall an emese beauty.
Create a stunning effect by keeping structured, colorful diamond-cut vases near it.
Venetian Living Room Wall Mirror
Add a vintage vibe with this oval-shaped decorative wall mirror in a classic Venetian design. With intricate work and layerings, it's sure to attract attention.
Place it on a deep coloured wall for all of its elaborate work to show in all its glory.
Venetian Rectangle Wall Mounted Mirror
Here's one to add that stylish minimalist-but-vintage feel to your living room. With its geometric corners, this is a great piece to use as a building block with other structured pieces such as tables and trays.
Add height to a space by hanging it vertically, or depth by hanging it horizontally over a wide console or buffet table.
Designer Venetian Wall Mirror Accent
Is it a mirror? Is it exquisite wall decor from an Italian palace? Who can tell? With its large symmetrical curved motifs, it's the perfect statement wall accent.
Juxtapose it with different-shaped showpieces to create a striking corner in your living room.
Celia Rectangle Venetian Mirror Classic
The clean lines and curves of the Celia Venetian Mirror are what makes it a spectacular piece that'll go with any interior style. A rectangular mirror with an openwork frame surrounded by a border of beveled windows, it's a paragon of finesse.
This designer piece embodies simplicity and elegance. It's for a true minimalist-lover.
Designer Wall Mirror Venetian Style
There's no need to get a ten-tier golden chandelier. This mirror will do the job in adding a big wallop of grandeur to your living room.
The solid octagonal shape is pleasing to the eye and adds an unexpected touch. Triple borders layered carefully and decorated with perfect cut flowers add interest. The tall leaf motifs on the crown encapsulate the grandiosity of this piece. Add simple yet elegant pieces around this mirror to bring out its royalty vibes.
Long Venetian Wall Mirror for Living Room
This mirror is a contrast of lines and curves. The exquisite detailing on the border combined with the etching work add character to the mirror. And the mirror will add character to your living room.
Crafted using classic Venetian design, this mirror is a statement antique piece that'll add a vintage vibe to your living room decor.
Mirror Venetian Chantal
A silver-shaded mirror that plays with various shapes for an unparalleled design. The Chantal will add an artistic feel to your living room with its intricate design work.
Motifs, etchings, ovals and rectangles. This mirror has it all. It's a great piece if you like decor with a theme of 'more is more', with more intricate pieces around it. Or give it all the attention it deserves by hanging it in solitude on a narrow wall.
Venetian Designer Wall Mirror
Venetian style is all about creating height in a small space, and filling that with ornate and luxurious design. And that's what this wall mirror does.
With unequal proportions, this wall mirror stays true to Venetian design principles. The complicated, intertwined floral design is a true mark of girandole mirrors from Venice.
Venetian Round Hanging Wall Mirror
The beauty of round mirrors is that they work with any space. This round mirror with its large arching vines add magnificence to your living room.
Venetian Wall Mirror Art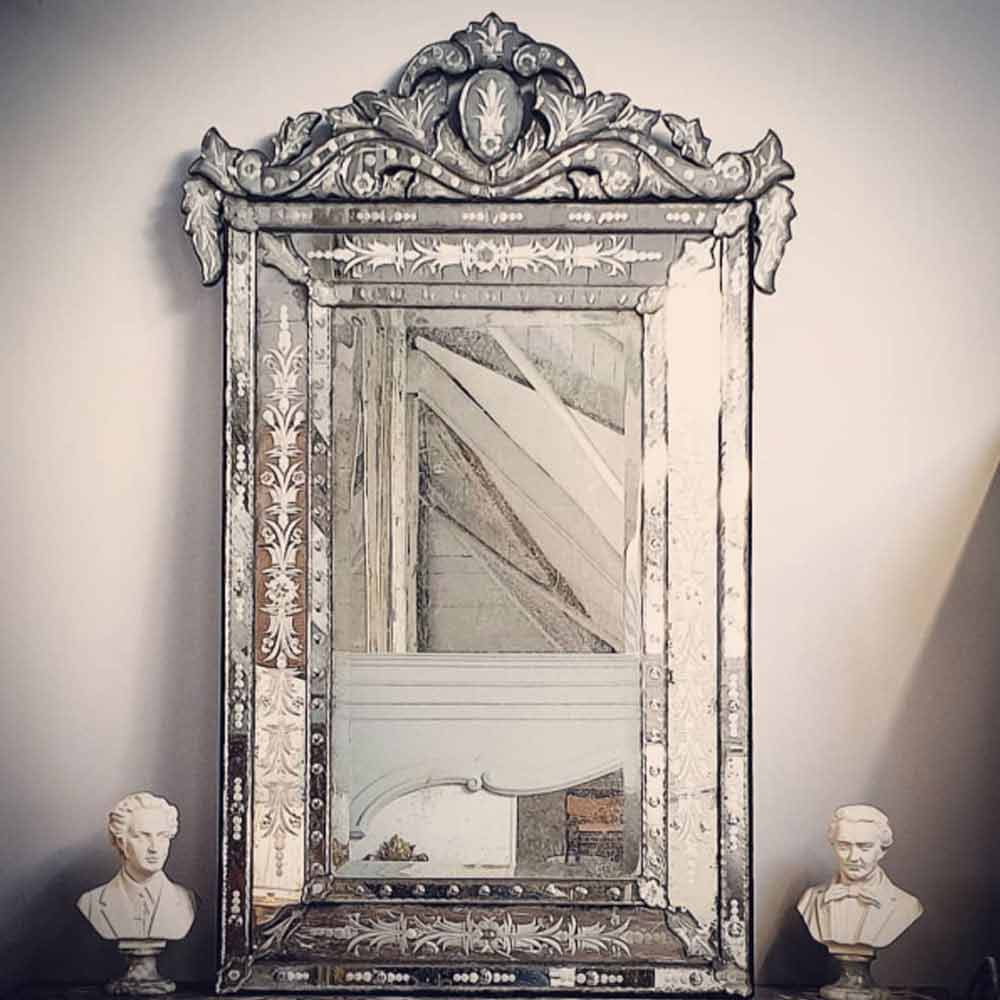 A wide wall mirror, this piece is more art than utility. The detailing, layering and cut motifs make it a grand addition to your living room decor.
Place it with natural furniture like bamboo and wood for a rustic ambience.
Berkeley Octagon Designer Mirror
A stylish addition to any room, the Berkeley Mirror will make your living area look super chic.
The 3D mirror edges make the octagonal shape stand out even more.
Place it in your foyer, living room or over a console table for that contemporary touch.
Devereux Designer Mirror
A silver-coloured mirror in an abstract geometric shape makes for a quirky compliant to your living room furniture. The clean lines make this an elegant piece.
Place it around softer, more fluid shapes for a unique look.
Large Frameless Venetian Mirror
In a classic Venetian style, this frameless mirror comes in a stunning silver colour that shows off its well-cut floral vines.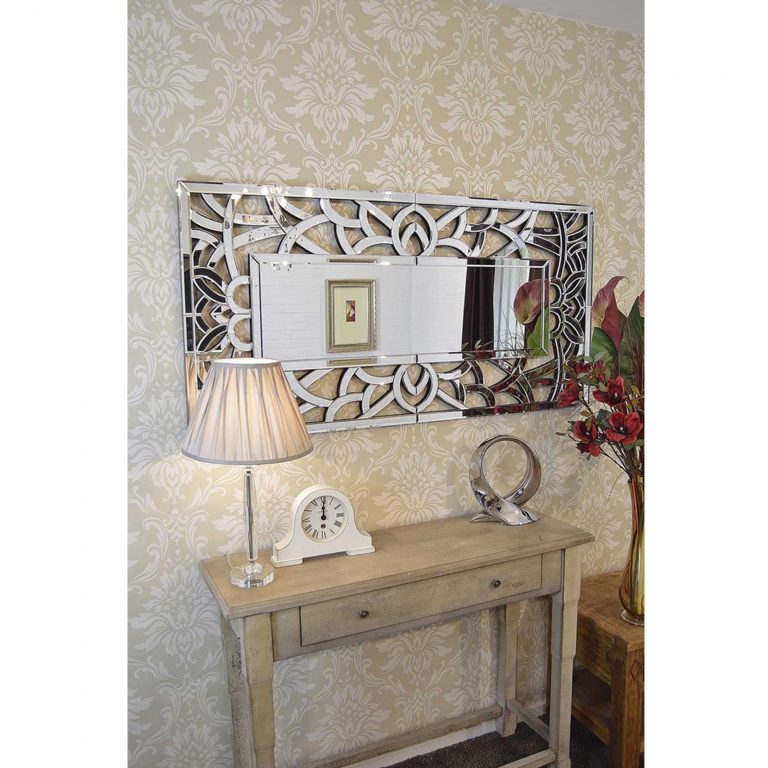 Placed horizontally or vertically, this wall mirror is a multi-tasker.
Overlapping Triple Bevelled Venetian Frameless Wall Mirror
A modern style, this mirror is simple and adds an effortless chic vibe to your living room.
The overlapping bevelled edges make it an understated, timeless piece that will look good with any interior scheme.
Rio Venetian Mirror
A unique design that adds an abstract ambience to the space. The well-defined lines and borders in the Rio Venetian Mirror make it a versatile piece for your living room.
Sunburst Wall Mirror
Feel the joy of the sun with this sunburst mirror. The perfect geometric pattern is pleasing to the eye and adds joy to any space it's in. Place it opposite a source of natural light for maximum happiness benefits.
Fusion Rectangular Mirror Large
The bevelled glass frame with its asymmetrical lines makes this wall mirror a snazzy addition to your living room interiors.
Hang it on a smaller wall or place it with abstract paintings on a larger wall for a trendy setting.
All these wall mirrors can be customized to your specific needs and tastes. We deliver all over India. And remember! You can see what you want, live before you buy. Book your appointment for shopping via video calling. Quick call/ Whatsapp on +91 9607929866/68. Our timings are from 10.30 am to 8 pm IST.
Let us know which ones from the list above are your favorite, in the comments below!
Q: How big should a dressing table mirror be?
Q: Where should a mirror be placed in a bedroom?
Q: How big should a dressing table mirror be?
Q: Where should a mirror be placed in a living room?