The lockdown times have made home theatres an essential part of homes. With families spending maximum time at home theatres being shut, and fear of crowded places, it is safe and relaxing to watch your favorite movies and series at home. If you are planning a new home theatre or upgrading your earlier one AHL offers desirable home theatre designs by MADS Creations.
No ifs, ands, and buts about audile elements being a key factor in home theatres but lights, seating and flooring also play an equally important role in conceptualizing home theatre designs.
A Royal Home Theatre Design
Add a dash of color to your space for a vibrant appeal. This entertainment hub with ritzy velvet seating in Prussian blue is a royal space. The TV screen with a super sleek sound bar and wall mount speakers are braced on a wall with splendid wooden paneling and gives true cinematic experience at home. Wooden flooring gives the room an aesthetic wooden finish in its entirety. The elementary side tables add to the style and functionality.
A home theatre room design is all about creating an atmosphere that you feel is reflective of the type of movie and how it should look. This can be accomplished by thinking about colors, textures, materials, and even lighting. A home theater room can be a great addition to your home and one way to enjoy your favorite movies and TV shows.
A Plush and Comfy Entertainment Zone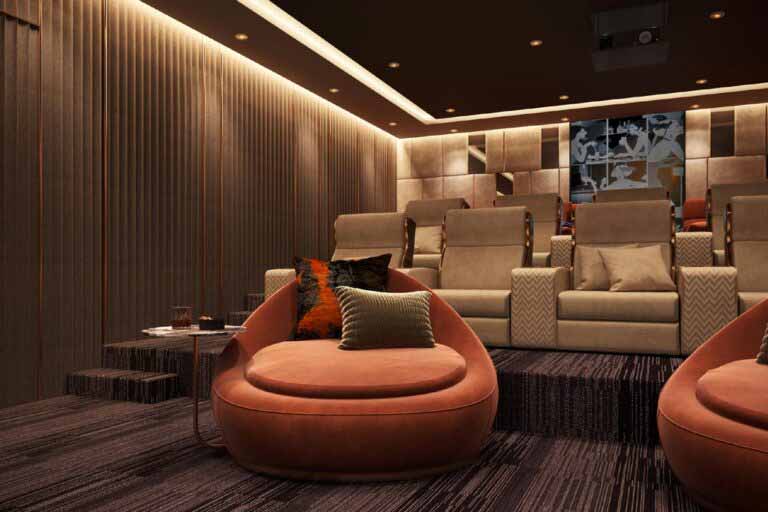 Here is an entertainment space to hang out with friends and family. The extra cushy couch chairs are a captivating feature of this room, and placing the seating on different heights makes for clear visibility. Elegant stone-top end tables with brass bottoms add to the room's charm.
Wrapping the walls in plush fabric with metal strip detailing gives an ethereal look. The lighting, a paramount factor of the room, gives a tranquil feel. The opulent cushion covers, and a monochrome full size wall art brings a luxurious home theatre into existence.