With These Steps From Our Interior Design Experts, Getting Your Balcony To Look Like The Ones You Covet On Pinterest Is As Easy As 1-2-3!
The lockdown has made all of us depressed and we are constantly looking for ways to stay motivated amids lockdown. Due to the Covid, no one can, rather no one should go out unless it's really that important. But what can we do to get a feel of roaming outside?
Let's all agree, it's the Age Of The Balcony. The lockdowns made balconies the most important place of our homes. They're the best way we can feel like we're outside without having to step out of the house.
And because of this, a lot of us have redecorated our balconies. We stopped looking at them as small places to store old things and started looking at them as a vital part of the house. So, whether the balcony is small or big, we started to think about the countless balcony ideas that in how many ways we can decorate it. We made them look cozier and prettier. A space where we can spend a lot of time.
At All Home Living, we've always given importance to the balcony decoration as the balconies are one of the most important places in the home and have come up with some amazing balcony decoration ideas. Done up right, they can function as many things. A home office, a garden with indoor planting, or just a cozy outdoor space to spend some downtime. And the size of the balcony doesn't matter. Like any other interior space, it's how you decorate it.
In this article, our interior design experts show you the balcony decoration ideas to make your balcony your favourite space of your home.
Step 1: Make the Floor Comfortable
Balcony decoration is really not that easy. The problem with balconies is that the floor becomes dusty too fast. Then you don't feel like stepping out into your balcony. It remains unused and a place to store old things.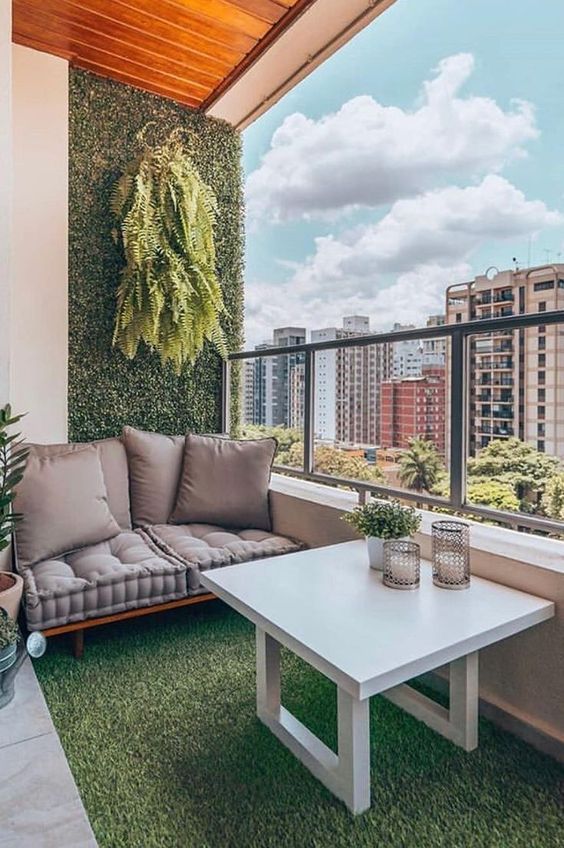 So then, your first step should be to make your balcony's floor comfortable and clean, like the rooms of your home. You can either put fake grass as a full carpet in the balcony, or you can add soft rugs on the balcony floor. The fake grass will make the balcony floor look green and vibrant. The rugs will make it look warm and cozy.
Try a rug from Quilting Tree. They're made of pure cotton, they're machine washable, and they have sticky pads under to make sure they stay in place. Once your balcony's floor is sorted and easy-to-clean, you'll find yourself stepping into your balcony more and more.
Step 2: Magical Lighting
Your balcony needs to be usable at night, not just during the daytime when there's plenty of light. And lit up with beautiful lights, your balcony will be a joy not just to you, but to anyone outside your building, looking at your balcony.
To light it up for the coziest ambience, we suggest hanging pendant lights for the ceiling. These will not just light up the balcony for relaxing evenings, but also look amazing. If it's not possible to hang pendant lights, keep one or two big table lamps on a small console table. Hand Blown Murano glass pendant lights and table lamps will add colour and beauty to your balcony. Make sure you have bulbs with warm yellow light in the pendant lights or in the table lamps.
Once you've taken care of the major light source, you can think of decorating the balcony with fairy lights. This will add a magical touch to the space.
Step 3: Decorate!
Now that you've got the floor and the lighting sorted, it's time to make your balcony as unique as you are. Remember that furniture is not just for your rooms. You can add furniture to your balcony, too!
A comfortable armchair in one corner if you have the space. And a coffee table in front of it so you can have your tea or coffee while watching the sunset. Here's a tip- use mirrored furniture because this will be the easiest to clean dust off of.
Add furnishings and decorations to your balcony once you've added seating. A wall mirror will make the space feel bigger than it is. Plants will make it look lively. Place pretty cushions on the armchair and on the floor.
The Last Step That No one Thinks Of: Add a speaker! Whether it's a wireless bluetooth speaker, wall speakers, or floor speakers, you'll transform your balcony into a wonderful haven with your favourite music filling the space.
And there you go! You have a stunning balcony done up in no time. It's as easy as 1-2-3! Make sure you add a few of our pieces from the Talisman Collection. Because you know, nazar na lage!